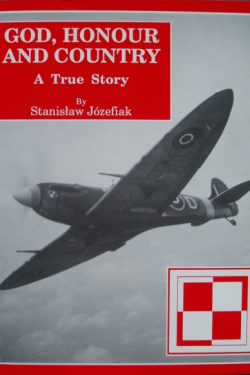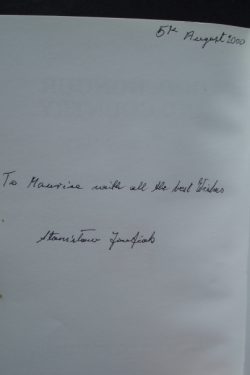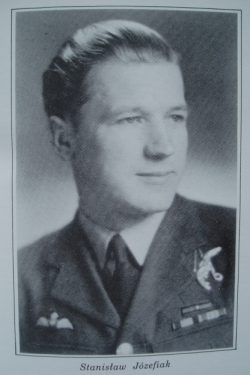 GOD, HONOUR and COUNTRY
A True Story by Squadron Leader Stanislaw Jozefiak VM
Signed by Stanislaw Jozefiak
 Inscribed, signed and dated by Stanislaw Jozefiak
Privately produced. First Edition 1997.  83 pages and well illustrated with photos
A Fine condition card cover book. Clean, tight and unread.
The author was an officer cadet in the Polish Air Force when the Nazis invaded Poland. With other cadets he escaped to Britain in January 1940 and immediately joined the RAF, serving for 9 years. His first posting was to a bomber squadron as an Air Gunner. He was one of two survivors of Wellington Bomber R1392, of 304 Squadron, which was badly shot up on a bombing mission to the docks at Boulogne and crashed in Sussex.  After recovering from his injuries, he went back on operations, completing 53 before re-training as a Spitfire pilot with 317 Squadron.  He then served with that squadron as part of the 2nd Tactical Air Force following the D-Day Landings.
After the War he spent 3 years in Greece, flying dangerous missions over Communist territory for the American Central Intelligence Agency.  When the British Government stopped its Nationals from flying with the CIA he was offered American citizenship if he would continue.  He opted to remain British and settled down in Derby where he opened a successful furniture and carpet store.  
In his eighties he returned to Sussex and hand built a monument to his dead colleagues from R1392. He passed away in 2016 at the age of 96.
An amazing story of determination and courage.
This book is listed on ACE. 
Please contact Spitfire Books to purchase or for more information