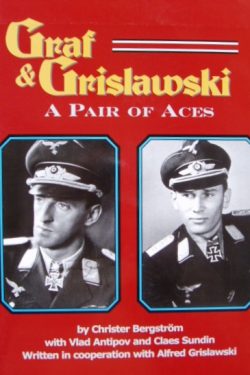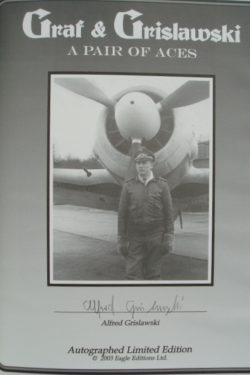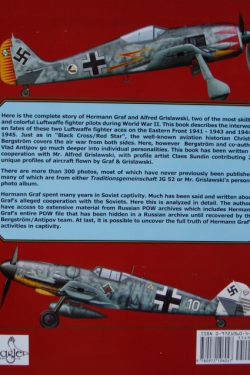 GRAF & GRISLAWSKI
A Pair of Aces
Signed by Alfred Grislawski
Sold
Special Autographed Limited Edition Signed by
Hauptmann Alfred Grislawski KC
Eagle Editions First edition 2003.  Limited edition of 400.  312 pages and fabulously illustrated with 300 photos, 25 colour profiles and colour portraits on the end papers. Many of the photos came from Grislawski's personal collection. There are appendices listing the confirmed aerial victories accredited to the two pilots, detailing the type of aircraft destroyed by date, location and opponent.
A Mint condition hardback book in maroon imitation leather boards with gold foil stamped titles and a black, white and red page ribbon. Mint condition dustjacket in a protective wrapper.  A first class copy of a lavishly produced book.
This excellent book follows the lives and careers of two skilful and colourful Luftwaffe aces, Hermann Graf (212 victories) and Alfred Grislawski (133 victories), both of JG 52. The two men were like chalk and cheese, but they complimented each other well and became good friends. Graf, the quiet conscientious type that belied his determination while Grislawski was brash, hot-headed and stood for no nonsense. They fought side by side in some of the harshest conditions that were found on the Eastern Front. The authors detail their experiences from the outset of hostilities, through their missions on the Eastern Front and the Goering Mutiny of January 1945 and examines their time imprisoned by the Soviets.  This book was written with the full co-operation of Grislawski who passed away shortly after the book was completed.
A magnificent, glossy and enthralling book for anyone interested in the Luftwaffe.