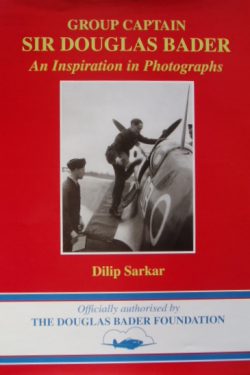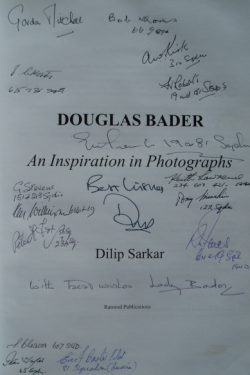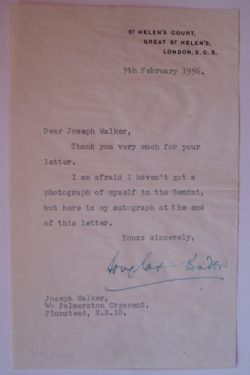 Group Captain Sir DOUGLAS BADER
An Inspiration in Photographs
Multi-Signed by Battle of Britain Pilots
Sold
Multi-signed at the Book Launch
Letter signed by Douglas Bader dated 9th February 1956, laid in

Ramrod Publications First Edition 2001.  167 pages including lots of  photos. 
Fine condition hardback book and dustjacket. Clean, tight and bright.
Signed by
Geoffrey Stevens ~ 151/213 Squadrons, Battle of Britain
 Richard Jones ~ 64/19 Sqns, Battle of Britain
Peter Fox ~ 56 Squadron, Battle of Britain
Ken Wilkinson ~ 616/19 Sqns, Battle of Britain
Keith Lawrence  ~ 234/603 Sqns, Battle of Britain
Eric Carter ~ 81 Squadron Russia
 Peter Taylor ~ 65 Squadron
Ray Minchin ~ 122 Squadron
S Cleaver ~ 607 Squadron
AW Kirk, Fred Roberts, Bob Morris, E French (Bader's Fitter)
Dr Gordon Mitchell 
Dilip Sarkar (author) 
&
Lady Joan Bader
Although Douglas Bader is best known for his wartime exploits, his contribution to life was far greater than that: he inspired people all over the world.  The photographs in this book, many of which are unpublished and in colour, clearly show the life of a man who despite having no legs lived life to the full and at the double.
A fascinating book for anyone interested in the legend that was Sir Douglas Bader complete with a vintage fan letter bearing a neat early Bader signature.