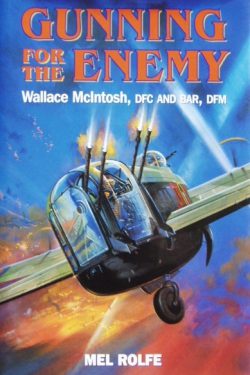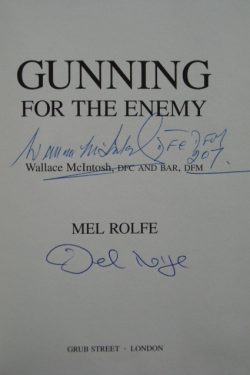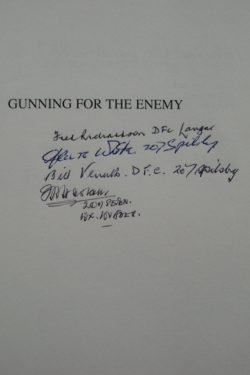 GUNNING for the ENEMY
The biography of Wallace McIntosh DFC* DFM
Multi-Signed by RAF Bomber Crew
Signed at the Book Launch at IWM Duxford in June 2003 by the author and
Wallace McIntosh DFC* DFM ~ Air Gunner 207 Squadron
Fred Richardson DFC ~ Pilot 207 Squadron
Alex White ~ Air Gunner 207 Squadron
Bill Veralls DFC ~ Pilot 207 Squadron
Frank Haslam ~ W/OP 207 Sqn & Evader

Grub Street First Edition 2003. 190 pages & photos
Fine condition hardback book and dustjacket. Comes with 2 photos of the veterans from the book launch.
Born into grinding poverty, McIntosh was a few days old when given by his young mother to her parents to bring up. As a boy, he was trailed round Aberdeenshire and Perthshire in the 1920s while his grandparents desperately sought work and shelter. He had not heard of Christmas until he was seven, and never celebrated his birthday until his late teens, but he could steal, kill and skin a sheep before he was twelve and snare anything that could be cooked in a pot. Leaving school at thirteen he was determined to escape the constant struggle to survive. 
'Gunning for the Enemy' tells the moving story of how the RAF finally accepted McIntosh after at first rejecting him, but then initially gave him the lowliest of jobs. Only by a fluke was he trained as an air gunner. During his time with 207 Squadron, based at Langar, Nottinghamshire and Spilsby, Lincolnshire, he flew over fifty sorties in World War Two. Although Bomber Command did not record details of 'kills' by air gunners, Wallace, who shot down eight enemy aircraft with one probable, is widely believed to be its top sharpshooter. He had many hairy incidents and his prodigious memory for detail enables him to recall numerous amazing escapes from death and how each and every night he and his comrades dramatically took the war to the enemy.
A fascinating book with a neat collection of 207 signatures from aircrew featured in the book.