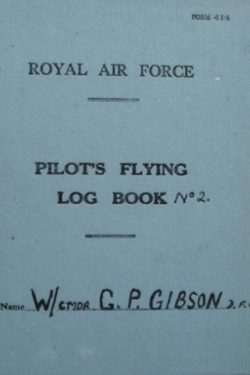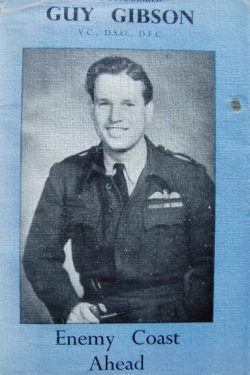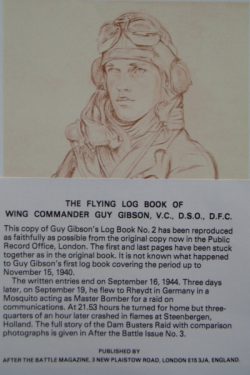 GUY GIBSON
Pilot's Flying Log Book & Enemy Coast Ahead
Sold
 Wing Commander Guy Gibson VC DSO DFC
PILOT's FLYING LOG BOOK  no 2
Published in 1976 by After The Battle Magazine.  Very Good condition. A nice copy of this scarce publication.
This is a superb replica of Gibson's Log Book no. 2  reproduced from the original held in the Public Records Office, London. This is now a collector's item in its own right and covers the Dams Raid and the award of the VC, the last entry being 16 September 1944, three days before Gibson was killed. As close as you can get to owning the real thing!
The publishers suggest that for maximum understanding and appreciation of the log book, it is studied in conjunction with Guy Gibson's autobiography 'Enemy Coast Ahead' written in 1944 but published posthumously in 1946 so here is a first edition copy of this famous book. 
ENEMY COAST AHEAD
Michael Joseph Ltd, first edition, second impression May 1946.  302 pages
A Near Fine condition hardback book in blue boards with photographic endpapers. The book is clean, tight and bright with a solid, square binding and no previous owner markings. The dustjacket is in Very Good condition, unclipped with just a little wear at the corners and to the top of the spine. A smart copy.
The Introduction was written by Arthur Harris and there is nothing else to add:
'This is a magnificent story, well and simply told, by as great a warrior as these Islands ever bred. It is also History.'
No Dambusters collection could be complete without copies of these two books.