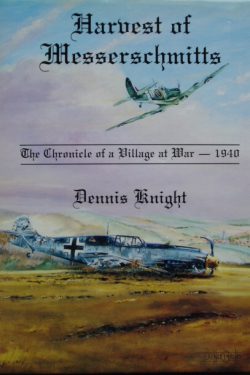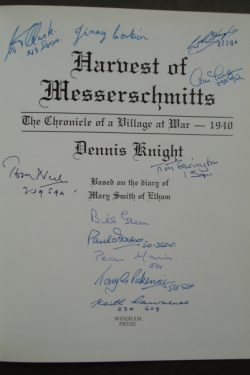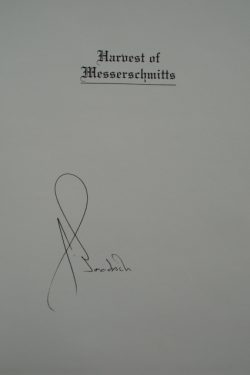 HARVEST of MESSERSCHMITTS
A Village at War ~ 1940
Multi-signed
Sold
Signed by 11 Battle of Britain aircrew on the title page

 Terry Clark 219 ~ Jimmy Corbin 66
Tim Elkington 1 ~ Bill Green 501 ~ Paul Farnes 501 ~ Peter Hairs 501
Bob Hughes 23 ~ Keith Lawrence 234/ 603
Archie McInnes 238 ~ Tom Neil 249 ~ Tony Pickering 501
Signed by Lt Colonel James Goodson (Eagle Squadron Ace) on the half title page
Signed again by Sgt Bill Green adjacent to his photo and entry on page 111
Wingham Press First Edition 1990.  183 pages and profusely illustrated with photographs and diagrams.
Fine condition hardback book with a similar condition dustjacket.  A very pleasing copy.
During 1940, a picturesque Kent village in the Downs behind Folkestone and Dover became virtually the epicentre of the Battle of Britain. The village is Eltham and this book is a chronicle of events that took place in the skies above, in its streets and in the surrounding countryside. Many anecdotal accounts and eye-witness reports are skilfully interwoven with official records to give a rich picture of a village at war and the effect of the Battle on an innocent and peaceful community. 
In that year at least 17 aircraft had been shot down or crashed within the parish boundaries, bombs had fallen, men had died, been captured or rescued and most people could claim that that the war had arrived literally in their back gardens.  This book recreates the atmosphere of apprehension, calm and courage, the humour and the sadness and is a tribute to the stoicism of the villagers of southern England and the gallant airmen of both sides who fought for victory in the vapour-trailed skies and above the summer patchwork of green fields and orchards.
James Goodson lived in Kent during his retirement and was associated with the Wingham Press which also published his own volumes of war memoirs.
A neat collection of Battle of Britain signatures in a very readable account of the Battle.