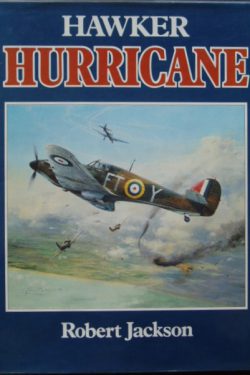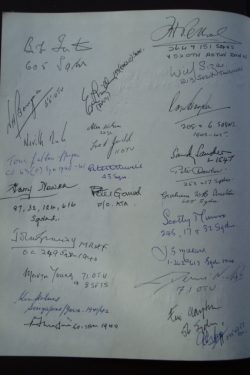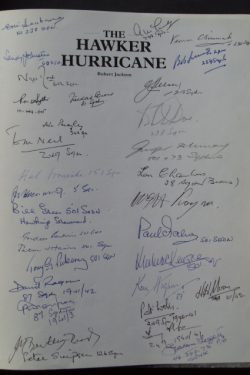 HAWKER HURRICANE
By Robert Jackson
Multi-signed by 85 Hurricane Pilots
Price: Serious offers invited until 31st January 2021
JANUARY     ~    *BOOK OF THE MONTH*
There are some aviation books that are so rare and highly sought after by collectors
from all over the world that it would be unfair to sell such a book on a 'first come' basis. 
Therefore, each calendar month, Spitfire Books is offering a rare book for sale
and invites collectors to submit a 'best offer' during the month by email or telephone
---
Signed by 85 WWII Hurricane Pilots ~
45 Battle of Britain and many distinguished others including:

John Grandy ~ Bunny Currant ~ Bob Doe ~ Sandy Johnstone
Ginger Murray ~ Pat Wells ~ Gordon Parkin ~ John Beazley
Les Harvey ~ Roy McGowan ~ Sandy Sanders ~ Garry Nowell
Ken Lee ~ Billy Drake ~ Guy Harris ~ Roy Ford
Joce Millard ~ Bill Green ~ Tom Neil ~ Bob Innes
Alan Gear ~ John Holderness ~ Eric Seabourne ~ John Bentley-Beard
Eric Brown ~ William Walker ~ Ken MacKenzie ~ Neville Duke
Peter Hairs ~ Paddy Barthropp ~ Tom Dalton-Morgan ~ Eric Miller (Eagle Sqn)

Blandford Press. First Edition 1988.  160 pages and well illustrated with photos
Very Good condition hardback book and dustjacket.  Clean and bright. A smart copy.  A flyer for Robert Taylor's outstanding tribute to the Hurricane titled 'Undaunted by Odds' has been neatly attached to the inside back cover.  The book comes with a complete list of the signatures.
A well researched and presented study of the heroic fighter which bore the brunt of the RAF's defensive efforts in the early days of WWII and went on to distinguished service in just about every other theatre of the war.
The collection of signatures in this book are from pilots who flew the Hurricane in the Battles of France, Britain and Malta; in the Western Desert, over the jungles of Burma; in Russia, Singapore, in training, by ferry pilots of the ATA and by test pilots. The majority have noted their squadrons or connection to the Hurricane.
A great Hawker Hurricane book which contains a magnificent collection of Battle of Britain and other veteran Hurricane pilot signatures.
Click any picture to enter the gallery……