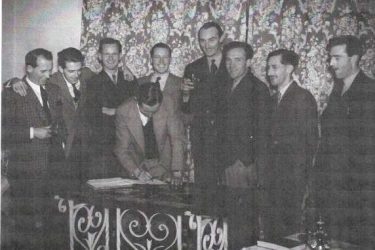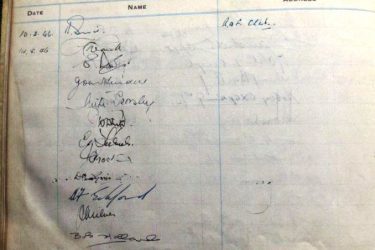 HELP WANTED ~ 32 Squadron
Photo of 32 Squadron Battle of Britain pilots
Identification of 32 Squadron Battle of Britain Pilots
Price: Not for sale - help wanted
HELP WANTED
to identify pilots at a 32 Squadron Reunion
held at The White Hart, Brasted on 14 August 1946
The photograph shows 9 pilots signing the White Hart guest book.  The relevant page of the guest book shows the signatures of:
John Worrall

? possibly VG Daw

John Flinders

Mike Crossley

John White

?

JE Proctor

Douglas Grice

Alan Eckford

? possibly AH Milnes

Bob Holland (92 Squadron)
Can anyone assist with:
identifying the unknown signatures and

matching all the signatures to the figures in the photo.  Mike Crossley is obvious!
 Please contact us if you are able to help – thanks in anticipation!
click picture to enlarge and clarify…