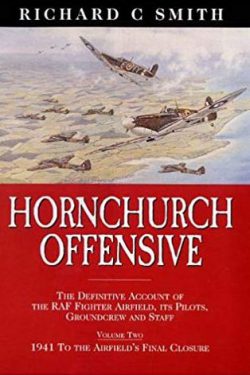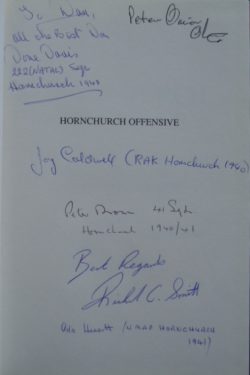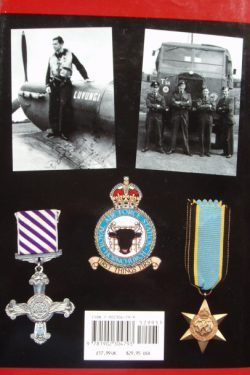 HORNCHURCH OFFENSIVE
A History of Hornchurch Aerodrome 1941 ~ 1962
Multi-signed
Sold
Signed by the author and
Squadron Leader Peter Brown AFC 41 Sqn Battle of Britain (wrote the introduction)
Dave Davis, Engine Mechanic, 222 Sqn
Joy Caldwell WAAF Ops Room
Ada Hewitt WAAF 1941
Peter 'Onion' Oliver

Grub Street First edition 2001.  210 pages and well illustrated with photographs. There are excellent & detailed appendices full of useful information.
Fine Condition hardback book and Fine Condition dustjacket.  Clean, bright, tight and unread. This book is nearly as new.
This is volume 2 of the definitive account of this famous RAF fighter airfield, its pilots, groundcrew and staff. Through 1941 to the end of the war, action was continuous with famous characters like Harry Broadhurst, Paddy Finucane, Wilfred Duncan-Smith and Max Bygraves joining the myriad of nationalities based there. The base was predominant during vital events such as the Dieppe raid, the Channel Dash, Operation Starkey, D-Day and in countering the V-1 menace. Post-war it was an Air Crew Selection Centre from 1948 – 1956 and fondly remembered by men such as Ronnie Corbett and Norman Tebbit. The airfield finally closed in 1962.
This book is listed on ACE.  To purchase, please contact Spitfire Books