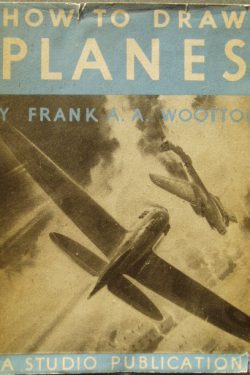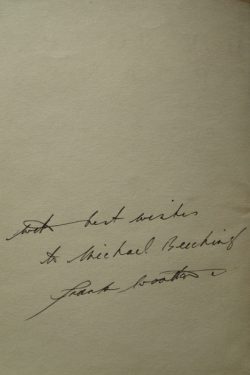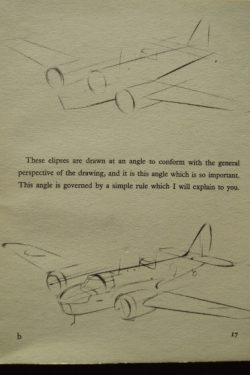 HOW to DRAW 'PLANES
By Frank A Wootton
Signed by Frank Wootton
Sold
Inscribed and signed opposite the title page by
Frank Wootton OBE
The Studio Ltd First Edition, first printing 1941.  64 pages and naturally very well illustrated with drawings!
Good condition hardback book.  The boards are discoloured but internally the book is clean, bright and solid. The unclipped dustjacket is a little grubby but complete and in near VG condition.
This classic little book offers good advice for artists wanting to try their hand at aircraft. Wootton offers advice and tips on composition, light and shading, and action sequences based around common RAF aircraft of the era. Some of his own completed drawings are reproduced.
Frank Wootton was one of the founding fathers of military and aviation fine art. Born in 1911, Wootton was awarded a scholarship to Eastbourne's School of Art aged 14, where his early career began to form itself.  After the outbreak of WWII, Wootton was determined to sign up for the RAF in any aircrew role they could find for him. However, senior officers soon picked up on his talents as an artist, first asking him to record the aircrew and aircraft of the Royal Canadian Air Force. He became the RAF's official artist, a role which took him all over the world and saw him produce artistic records of the Battle of Britain and the Allied Invasion of Europe. He wrote several books but his most successful was this 1941 bestseller 'How to Draw 'Planes' which ran to many reprints.
Wootton had made a name for himself, and his career was only furthered post-War. He was a founding member and President of the Guild of Aviation Artists, and continued to work in official roles with the RAF for many years. His work with its distinctive style is some of the most collectable in the field. He passed away in 1998.
This book belonged to Michael Beeching.  Besides the inscription to him, he has signed his name on the front end paper. Flt Lt Beeching (1927-2000) was a Caterpillar Club member who survived baling out of a Westland Whirlwind which had a rotor failure on a test flight in 1956. He was also an amateur aviation artist.
Despite the average condition, a signed copy of the first impression of this book is an unusual and collectable find.