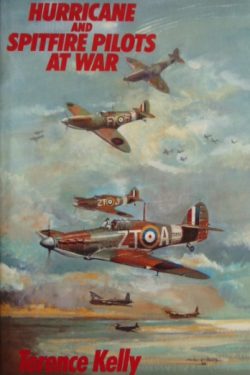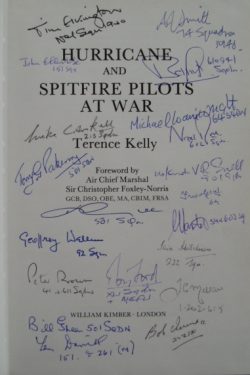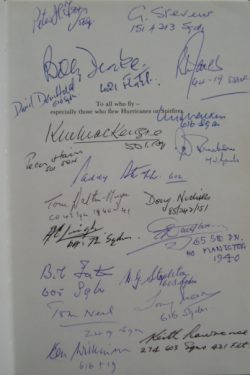 HURRICANE and SPITFIRE PILOTS at WAR
By Terence Kelly
Multi-signed by 40 Battle of Britain Fighter Pilots
Price: Serious offers invited until 31st January 2019
JANUARY     ~    *BOOK OF THE MONTH*
There are some aviation books that are so rare and highly sought after by collectors
from all over the world that it would be unfair to sell such a book on a 'first come' basis. 
Therefore, each calendar month, Spitfire Books is offering a rare book for sale
and invites collectors to submit a 'best offer' during the month by email or telephone
---
Signed on the title and dedication pages by 40 Battle of Britain
Hurricane & Spitfire pilots with their squadrons
Tim Elkington ~ Arthur Smith ~ John Ellacombe ~ Cyril Bamberger
Mike Croskell ~ Michael Wainwright ~ Nigel Rose ~ Tony Pickering
Vivian Snell ~ Trevor Gray ~ Ken Lee ~ Ludwig Martell
Geoffrey Wellum ~ Iain Hutchinson ~ Peter Brown ~ Roy Ford
Joce Millard ~ Bill Green ~ Len Davies ~ Bob Innes
Peter Fox ~ Geoffrey Stevens ~ Billy Drake ~ Richard Jones
David Denchfield ~ William Walker ~ Ken MacKenzie ~ John Freeborn
Peter Hairs ~ Paddy Barthropp ~ Tom Dalton-Morgan ~ Doug Nicholls 
AC Leigh ~ Dave Glaser ~ Bob Foster ~ Basil Stapleton ~ Tom Neil
Tony Iveson ~ Ken Wilkinson ~ Keith Lawrence
William Kimber. First Edition 1986.  222 pages and well illustrated with photos
Fine condition hardback book and dustjacket.  Clean and bright. An excellent copy
Terence Kelly, a distinguished author, playwright and former Hurricane pilot, has collected a treasury of anecdotes from pilots who flew these trusty aircraft in various operational theatres during WWII. The reminiscences, some funny, some tragic, some mourning old comrades, some reliving dangerous encounters, all reviving what it was like to fly in these two well-beloved machines.
An interesting and well written book which contains a magnificent collection of Battle of Britain signatures.