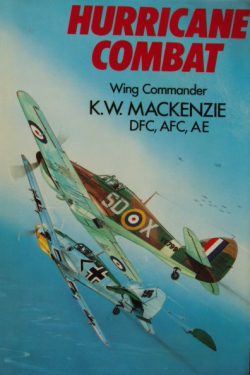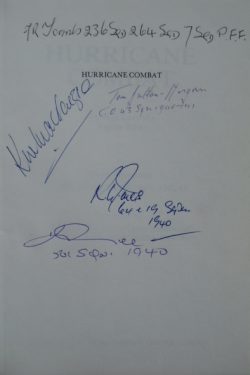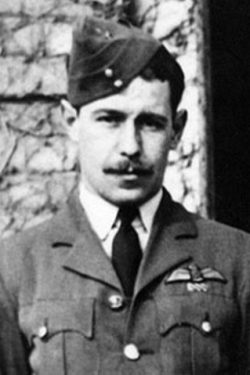 HURRICANE COMBAT
By Wing Commander Ken Mackenzie DFC AFC
Signed by Battle of Britain Pilots
Sold
Signed on the half title page by 5 of 'The Few'
Ken Mackenzie
Tom Dalton-Morgan
JR Toombs
Richard Jones
Ken Lee

Grenville Publishing Co. 1990.  167 pages and well illustrated with photos
Very Good condition card cover book. Clean, tight and bright. There is a light crease to the corner of the rear cover and there is a printing defect on page 17/18. Otherwise this is a very nice copy.
The autobiography of RAF Battle of Britain fighter pilot Ken Mackenzie who flew Hurricanes with 501 Squadron from Kenley. He writes vividly about his operational experiences including his encounter with a Messerschmitt which he brought down by knocking off its tail because he had run out of ammunition.  After being shot down, he was a POW in Stalag Luft 3 where he was involved in both The Wooden Horse Escape and The Great Escape.
A readable memoir of a fascinating life with some great signatures.
This book is listed on ACE.  To purchase, please contact Spitfire Books