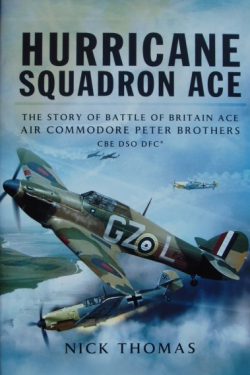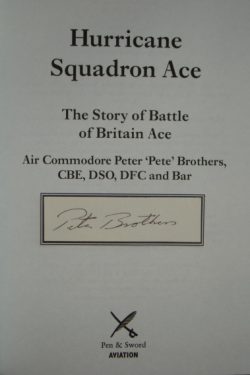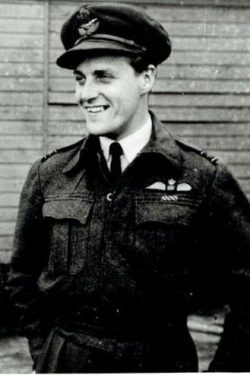 HURRICANE SQUADRON ACE
The Story of Air Commodore Pete Brothers
Signed by Air Cdre Peter Brothers
Sold
Bookplate on the title page signed by
Air Commodore Peter Brothers

 CBE DSO DFC*
Published by Pen & Sword First edition, 2014.    258 pages and lots of photos.
Mint condition book and dustjacket. As new.
This is the only in-depth biography of Pete Brothers, a distinguished Battle of Britain pilot and fighter leader. He flew with 32 Squadron and Bob Stanford Tuck's 257 Squadron before being given his own commands including the famous 602 Squadron.  He finished the war with more than 16 victories, 10 of which had been scored during the Battle of Britain.
Postwar, Pete enjoyed a varied RAF career and more recently was President of the Battle of Britain Fighter Association. He was a genial and popular veteran at various commemorative events until his death in 2008 aged 91.
An engaging posthumous biography enhanced by a neat Pete Brothers signature.