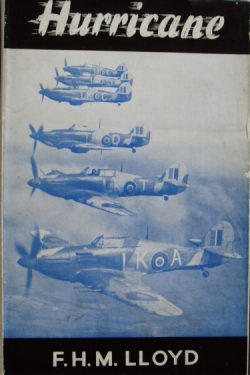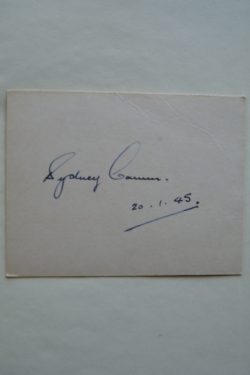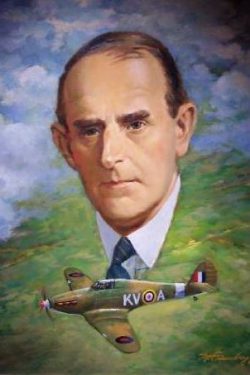 HURRICANE & Sir SYDNEY CAMM
The Story of a Great Fighter
Card signed by Sir Sydney Camm CBE
Sold
First Edition of 'Hurricane' with a laid-in wartime card signed by
Sir Sydney Camm

20 . 1 . 45
A Harborough Publication, First Edition, first printing December 1945.  136 pages and well illustrated with photos.
A Fine condition hardback book in dark blue boards with gold gilt titles.  The complete, unclipped dustjacket is also in Fine condition.  This 75 year old book is in exceptional condition, clean, bright and it feels unread.
This was the first book to be published about the famous Hurricane, tracing the technical and operational development of the aircraft and also telling the stories of the designers, constructors, test pilots and operational pilots of all nationalities that flew the Hurricane in action around the globe.
Born in Windsor in 1893, Camm started with the Martinsyde aeroplane company in 1914. He joined T.O.M. Sopwith at the H.G. Hawker Engineering Company at Kingston in 1923.  As Chief Designer from 1925, his prolific genius led to a 60-year series of outstanding military aircraft starting with the Hart biplane day bomber in 1928 and its single-seat fighter derivative, the Fury, from 1930.
In 1935 Camm designed the Hurricane, his first monoplane fighter, armed with 8 machine guns and using the new Merlin engine. It was the mainstay of the RAF during the Battles of France and Britain in 1940. There followed the Typhoon, the Tempest and the post-war Sea Fury propeller-driven fighters.
The Sea Hawk and Hunter jets were followed in the 1960s by the revolutionary V/STOL Harrier fighter, combat-proven in the battles over the Falkland Islands in 1982.  Sir Sydney Camm died on 12 March 1966 and is commemorated with a Hurricane on a pole in his home town of Windsor.
A fantastic condition copy of a very collectable book, complete with an exceptionally scarce wartime signature of the Hurricane's designer
The card measures approx. 4 x 3 inches and is not attached to the book