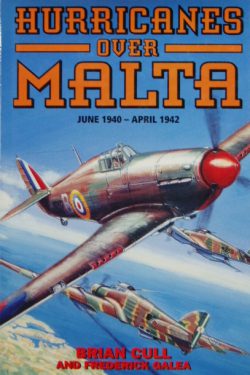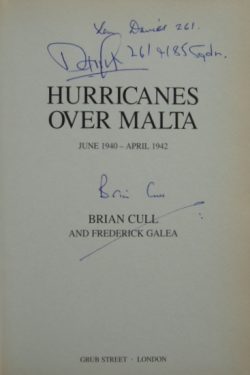 HURRICANES over MALTA
June 1940 ~ April 1942
Signed by 2 Battle of Malta pilots
Signed by the author and 2 Battle of Malta Pilots
Len Davies ~ 261 Squadron
Cyril Bamberger ~ 261 & 185 Squadron

Grub Street First Edition 2001.  320 pages and very well illustrated with photos and useful appendices
Fine Condition hardback book in a a Fine Condition dustjacket. Clean and tight.
Based on the widely acclaimed 1987 Grub Street publication 'Malta: The Hurricane Years', this is a fully revised and updated account of the pilots who flew Hurricanes in defence of Malta.  Since the earlier publication, a number of important personal diaries and journals have come to light as well as photos which have been used to give atmosphere to the story and relay the thoughts of some of the pilots.
An excellent reference book on this fascinating aspect of the air war.