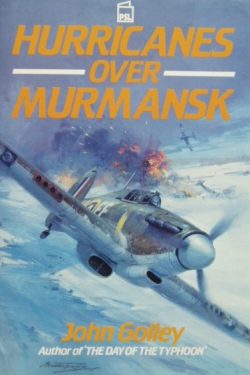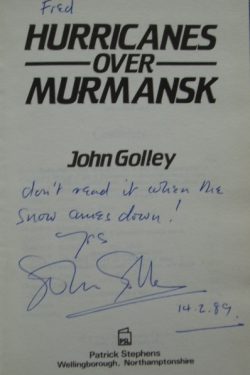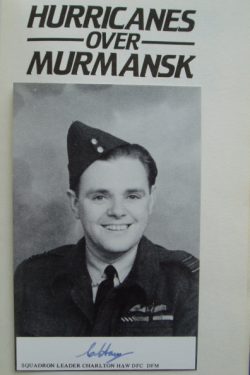 HURRICANES over MURMANSK
The story of 151 Wing operations in Russia 1941
Photo signed by Charlton 'Wag' Haw
Sold
Inscribed and signed by John Golley
'Don't read it when the snow comes down!
Yours
John Golley
14.2.89′
Laid in photo and signature of  Wing Commander Charlton 'Wag' Haw DFC DFM Order of Lenin
Patrick Stephens Ltd First edition 1987.   216 pages and well illustrated with photographs
Very Good condition hardback book in a Very Good condition unclipped dustjacket.
In the summer of 1941 on Churchill's direct orders, Force Benedict saw the deployment of two RAF Hurricane Squadrons to Murmansk.  The aim was to show the quality of the Hurricane aircraft if flown properly and to teach Soviet pilots and their ground crews how to handle the British military equipment that would be soon be supplied to the Soviet Union. This book tells the incredible story of the two squadrons suddenly plucked from Britain to defend the vital ice-free port of Murmansk and their spirited resistance to the ferocious Nazi onslaught. 151 Wing carried out 365 sorties during its stay at Vaenga, claiming 11 Messerschmitt fighters and three Ju88 bombers shot down.  Four 'Orders of Lenin' were awarded to British Pilots (the equivalent of the VC), the first time such awards had been given to non-Russians and the only ones given to Allied forces during the whole of WWII which indicates the importance of this expedition in the eyes of the Russians. 
The main character in this book is Charlton 'Wag' Haw, and the early chapters cover his experiences during the Battle of Britain with 504 Squadron.  He received the Order of Lenin in Russia and the DFM upon his return home.  Shortly afterwards he was commissioned and received the DFC, surviving four tours of operations and becoming a Wing Commander.
The author John Golley was himself a Hurricane and Typhoon pilot and has written about his own war experiences in his autobiography 'The Day of the Typhoon'.
A gripping account of a fascinating episode of WWII.