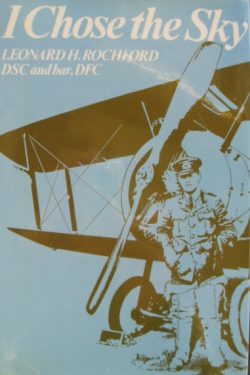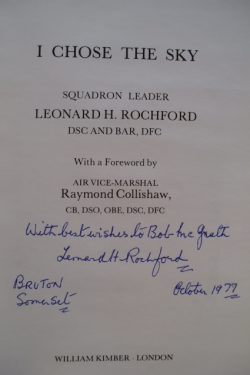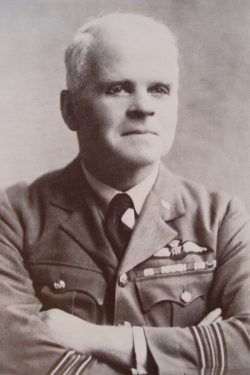 I CHOSE the SKY
By Squadron Leader Leonard 'Tich' Rochford DSC* DFC
Signed by Leonard 'Tich' Rochford
Sold
Inscribed, signed and dated by Leonard H Rochford on the title page
William Kimber. First edition, 1977.  224 pages and well illustrated with photographs
Fine condition hardback book and dustjacket. Clean, bright and tight.
'Tich' Richford writes about his two action filled years as a WW1 fighter pilot with the famous No 3 Sqn RNAS when he flew the Sopwith Pup and Sopwith Camel.  While flying many hundreds of hours of operations, he was credited with 29 victories and he vividly recalls these engagements and the exploits of the pilots with whom he flew like Raymond Collishaw.
Collishaw writes in the foreword: "Tich was a truly remarkable person.  He stood only a bit over five feet and I think I could have worn him as a watch charm.  He had a quiet, gentle and unassuming manner but when he got into the cockpit he was absolute hell on wings.  No one would suspect that inside such a tiny frame was such a heart of a lion. Not unless they'd seen Tich in action as I did many times."   
A lovely signed copy of this excellent WW1 memoir which was republished by Grub Street in 2015.