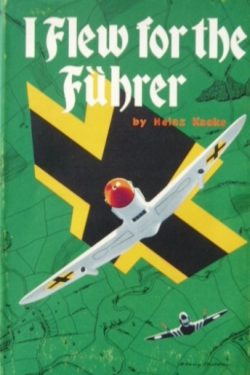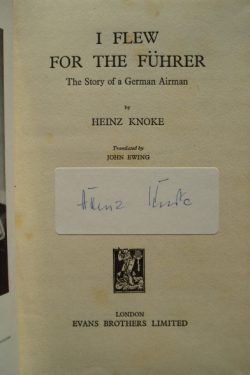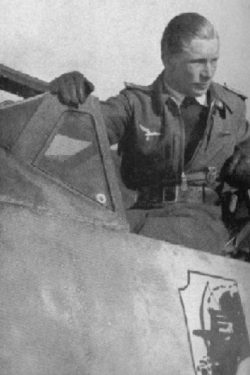 I FLEW for The FUHRER
The Story of a German Fighter Pilot
Signed by Hauptmann Heinz Knoke
Label signed by Heinz Knoke + signed Letter
Evans Brothers First Edition, eighth impression September 1956. 187 pages plus 23 photos.
Good condition hardback book in Very Good+ condition unclipped dustjacket. The book has some tape marks to the end papers and some scattered light foxing to the page edges.  This book belonged to the aviation author and historian Norman Franks and he has written a list of Knoke's victories on the last page of the book.  With the book is an interesting letter from Knoke to Franks dated 1992 in which he confirms his victories. There is also a hand corrected list of his victories and a photocopy of a wartime Luftwaffe victory confirmation chit.
Joining the German air force on the eve of the Second World War, Knoke fought throughout the conflict in a fighter squadron, eventually becoming the CO of a fighter wing.  In his 400 missions he shot down 33+ Allied aircraft, including 19 American four-engine heavy bombers. He was shot down himself, and badly injured in the last weeks of the war. Since publication in the early 1950s these memoirs have never been out of print.
As a contrast to the many accounts of British and American air-war experiences, this first-hand record from the other side makes fascinating reading and comes with fascinating correspondence with a clarification of Knoke's score by the ace himself.
Click a picture to enter the gallery…..