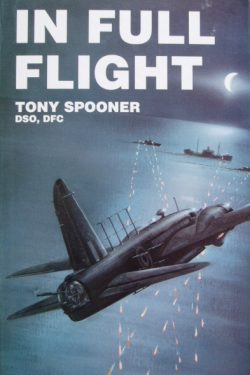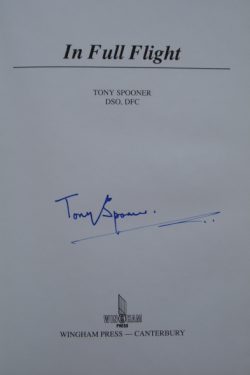 In FULL FLIGHT
By Wing Commander Tony Spooner DSO DFC
Signed by Tony Spooner
Sold
Signed by Tony Spooner on the title page
Wingham Press, Revised Edition 1991.  Foreword by ACM Sir Hugh Pughe Lloyd. 267 pages including photos.
Fine condition hardback book in blue boards with gilt titles with a Fine condition dustjacket.  Clean, bright and tight, an excellent copy.
Tony Spooner was an outstanding pilot and navigator whose expertise was in the location and destruction by night of enemy shipping. As captain of a special duties Vickers Wellington operating from Malta, his modified bomber had radar which, though primitive, nonetheless improved the chances of identifying enemy ships sailing under cover of darkness.
His aircraft, bristling with an array of aerials, was known in England as a "Stickleback"; on Malta, for reasons Spooner never discovered, it became known as a "Goofington".  Although Spooner was only a recently-commissioned 25-year-old pilot officer, he established an early and highly unusual rapport with both Air Vice-Marshal Hugh Pughe Lloyd, Malta's Air Officer Commanding, and Captain W G Agnew, leader of Force K, the Navy's scourge of Axis shipping. The fact was that both Lloyd and Agnew recognised Spooner's buccaneering qualities and his piloting and navigational skills.
Spooner's surveillance enabled Force K to sink many enemy ships, virtually preventing critical supplies reaching Rommel and his Afrika Korps.  Spooner's technique was to drop parachute flares which silhouetted the enemy vessels, while the two light cruisers and two destroyers of Force K remained concealed in the dark. Meanwhile, the Fleet Air Arm also benefited from his reconnaissance, as night-flying Swordfish and Albacore torpedo-bombers from Malta located and attacked enemy shipping. So closely did Spooner work with the Navy that he received the great compliment of an official signal ordering him to attend the operations room at 11 am daily for a pink gin.
This is a revised and updated edition of his autobiography, originally published in 1965 and includes information unavailable at the time. Spooner also wrote biographies of his notable Malta contemporaries, Adrian Warburton and Sir Ivor Broom.
"A splendid and inspiring book" – Air Chief Marshal Sir Hugh Pughe Lloyd