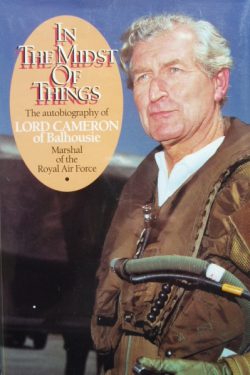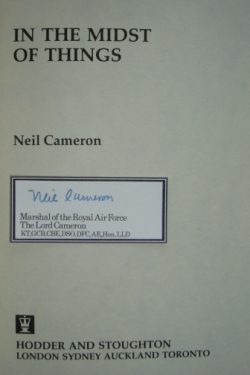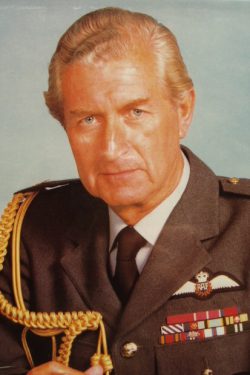 IN the MIDST of THINGS
The autobiography of MRAF Lord Cameron of Balhousie
Signed by Lord Cameron
 Neil Cameron signature on the title page

Hodder & Stoughton First Edition 1986.  256 pages plus photographs
Mint condition hardback book in a Mint condition dustjacket. As new and unread, this is a superb copy of the book in all respects.
This is the autobiography of Lord Cameron of Balhousie, Marshal of the Royal Air Force.   Starting his career as a sergeant pilot flying Hurricanes with 17 Squadron during the Battle of Britain, he rapidly rose to distinction as a fighter squadron commander serving in Russia, the Middle East and the Far East, being awarded the DFC and DSO for outstanding leadership in the air.
By the time of his appointment as Chief of the Defence Staff in the 1970s, Neil Cameron was an outstanding leader in every way. An attractive, energetic and open personality, he had held command in the field, was familiar with the ways of Whitehall and he enjoyed a reputation for honesty and integrity in all his actions. He had written much of his autobiography before his death in 1985. The manuscripts were then completed, according to his wishes, by colleagues from his Service and academic days.
A candid memoir of a distinguished RAF career, enhanced by a neat Neil Cameron signature.