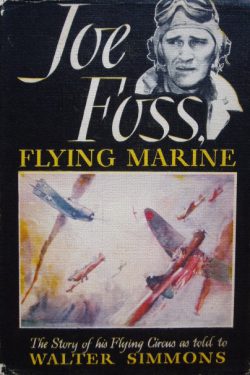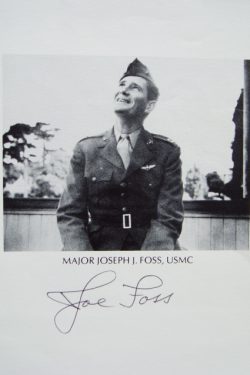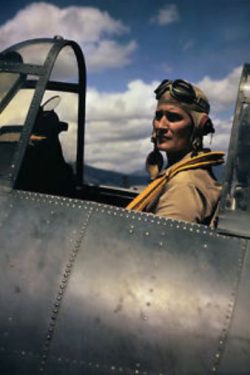 JOE FOSS ~ Flying Marine
The Story of his Flying Circus of Grumman Wildcats
Signed by Major Joe Foss MoH
Signed by Major Joe Foss
The signature is on a full page bookplate which has been neatly inserted to form an additional page in this book
E P Dutton & Co. First edition stated 1943.  160 pages and well illustrated with photographs.
Very Good condition hardback book in a Very Good condition dustjacket with some edge wear.  An exceptionally good copy of this very scarce wartime book which comes with an obituary from the Daily Telegraph.
When Joe Foss joined the Flying Marines, became a fighter pilot and embarked for Guadalcanal, he was just another young man eager for a fight.  Credited with 26 victories he was America's first 'Ace of Aces' beating Rickenbacker's WW1 record. In 1943 he was awarded the Congressional Medal of Honor and the citation read:
For outstanding heroism and courage above and beyond the call of duty….for a record of aerial combat achievement unsurpassed in this war… His remarkable flying skill, inspiring leadership and indomitable fighting spirit were distinctive factors in the defense of strategic American positions on Guadalcanal.
Joe Foss died in 2003 and was one of the great American fighter aces of WWII, officially credited with shooting down 26 Japanese aircraft whilst serving in the Pacific; he later became a Brigadier general and had a successful career in public life becoming Governor of South Dakota.
A great copy of an interesting flying memoir/propaganda piece which is very scarce in this first edition.