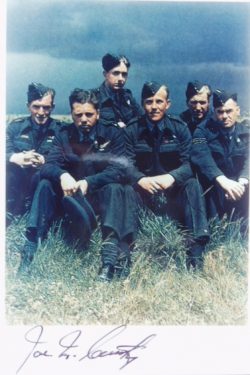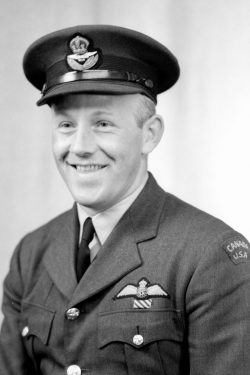 JOE McCARTHY ~ Dambuster
Dambuster ~ Pilot AJ-T
Photo signed by Wing Commander Joe McCarthy DSO DFC*
Price: Serious offers invited until 30th September 2019
SEPTEMBER    ~    *SIGNATURE OF THE MONTH*
There are some aviation signatures that are very sought after by collectors
from all over the world, from pioneer pilots and designers to aces and astronauts. 
Therefore, each calendar month, Spitfire Books is offering an interesting signature for sale
and invites collectors to submit a 'best offer' during the month by email or telephone
---
Wing Commander Joseph 'Big Joe' McCarthy DSO DFC*

(1919-1998)
Colour photograph of Joe McCarthy and the crew of Lancaster ED285/'AJ-T' at RAF Scampton, 22 July 1943
Signed by Joe McCarthy in black ink

 
Joe McCarthy was born in New York and learned to fly as a teenager. He was so eager to see aerial action against the Germans that he joined the Royal Canadian Air Force months before the United States entered the war in December 1941. Becoming a bomber pilot he did his first tour with 97 Squadron, completing thirty bombing sorties over Germany, including three over Berlin and winning a DFC. 
He was then was invited to join 617 Squadron by Guy Gibson and took part in the Dambusters raid, captaining Lancaster AJ-T.  McCarthy and his crew flew with the second wave of Lancasters, but he had to take a spare aircraft after his became unserviceable. T-Tommy was the only aircraft to attack the Sorpe Dam, which had to be hit with an Upkeep bomb directly without it bouncing.  Although he delivered his bomb perfectly and it detonated as planned, the bomb caused negligible damage as the Sorpe was an earthen dam that absorbed much of its impact.
Staying with 617 Squadron, he became a flight commander and completed another 40 trips.  A popular man on the squadron, Joe was a 6-foot-3-inch, 225-pound man known as the big blond American, with a personality as outsized as his physique and a penchant for unrestrained profanity that trumped the more timid oaths of his compatriots. In the end, Joe lost the cultural clash. By the time the war was over he had gone British, affecting a pipe, a walking stick and a dog. "If I'm going to be an officer and a gentleman," he said, "I'm going to have a crack at looking the part."
In order to remain in the R.C.A.F. he became a Canadian citizen after the war, serving in a variety of military posts. They included an international assignment in the USA, which led him to retire to nearby Virginia Beach where he died in 1998.
Joe was mentioned but not portrayed in the 1955 film 'The Dam Busters', which focuses mostly on the first wave that breached the Möhne and Eder dams and he is also fondly mentioned throughout Johnny Johnson's autobiography 'The Last Dambuster'.
A nice signed photograph in Fine condition, measuring approx. 6 x 4 inches