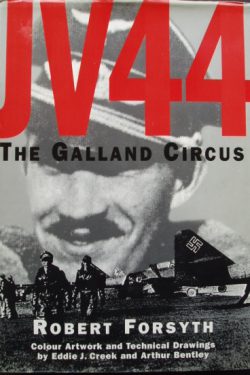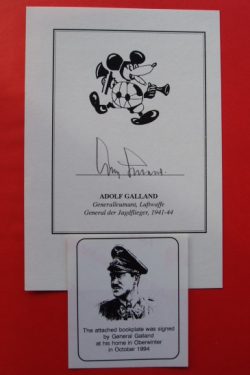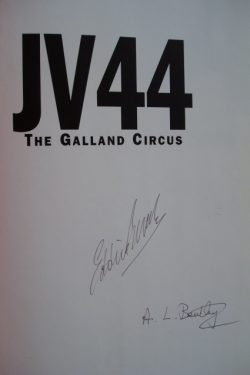 JV44 ~ The Galland Circus
The Squadron of Aces
Signed by General Adolf Galland KC
Sold
Laid-in bookplate signed by 

General Adolf Galland

Signed by 2 of the authors on the half title page
Classic Publications First edition 1996.
356 pages, profusely illustrated with colour and B & W photographs plus 15 colour profiles and fold out technical diagrams.
Near Fine condition book and dustjacket. Clean tight and unmarked. Embossed titles on the front cover and silver gilt titles on the spine.  The DJ has some edge wear at the corners but looks very smart in a Brodart protective cover.  The Galland bookplate is not attached to the book. 
This is the story of one of the most controversial, mysterious and enigmatic units of the Luftwaffe. It is a story that charts the origins of Generalleutnant Adolf Galland's Jagdverband 44 amidst the crisis command and political intrigue that permeated the Luftwaffe and in particular, the senior echelons of the German daylight fighter force during the closing months of 1944, events which were to lead to Galland's dismissal as commander of the Jagdwaffe and the ensuing "Mutiny of the Kommodores".
With the aid of interviews, documentary and photographic contributions from many former pilots of this short-lived but remarkable unit, the author traces the history of JV44 from its inception at Bradenburg-Briest in February 1945, through to its surrender at Salzburg and Innsbruck just days before the capitulation. Using rare eye-witness accounts, the author has also reconstructed JV 44's last-ditch combat operations with the Me 262 jet fighter from Munchen-Riem against the American Tactical Air Forces over southern Germany during April 1945. Together with detailed appendices, many private photographs plus coloured profiles of aircraft and illustrations of the unit's airborne weapons systems, this is the most comprehensive account of one of the Luftwaffe's most famous units and a vital reference work.
" I was to set up a unit to prove that the Me 262 was the superior fighter that I always claimed"  Adolf Galland
" It is true to say that the high point of my flying career was that last month of the war
at Munchen-Riem with Galland and Steinhoff'   Walter Krupinsky
This is a scarce book which commands a high price when it can be found. Unfortunately General Galland died just weeks before publication but he did contribute the introduction thus a distinctive, privately produced Galland signed bookplate is included to enhance this book.  Generalleutnant Walter Krupinsky wrote the forward and his signature can be purchased from Spitfire Books to further complement this magnificent book.