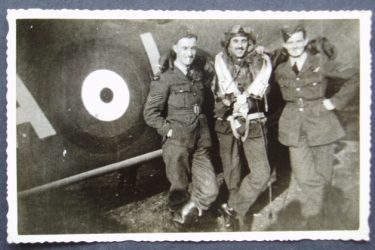 KIA BATTLE of BRITAIN Signature
Signed photo with two rare Battle of Britain signatures
Photo signed by Sgts RF Tatnell & GA Southorn
Price: Serious offers invited until 30th September
SEPTEMBER    ~    *SIGNATURE OF THE MONTH*
There are some aviation signatures that are very sought after by collectors
from all over the world, from pioneer pilots and designers to aces and astronauts. 
Therefore, each calendar month, Spitfire Books is offering an interesting signature for sale
and invites collectors to submit a 'best offer' during the month by email or telephone
---
Sergeant George Albert Southorn 
(1911 – 2006)
Sergeant Reginald Frederick Tatnell (1915? – 1941)
This is a photograph which was produced to be used as a postcard.
It measures 14 x 9 cm and has scalloped edges.
It is signed on the reverse by Southorn and Tatnell in ink.
All the other writing is in light pencil.

The card shows a Blenheim crew of 272 Squadron standing in front of their aircraft sometime in late 1940 or early 1941.  The crew from left to right are RF Tatnell (pilot), GA Southorn (Observer) and RR Stretch (WOp/AG)
All three airmen received the Battle of Britain Clasp for their service with 235 Squadron during the Battle of Britain.  On November 19th 1940, their flight was sent to RAF Aldergrove to form the core of 272 Squadron which was reforming there and according to the pencil note on the reverse of the card, this is where the picture was taken and signed.
Both Southorn and Stretch survived the war but Reg Tatnell was killed aged 25 on May 18th 1941 in Beaufighter Ic T3302 which dived into the ground just after a night take-off from Chivenor and he is buried in a nearby churchyard with other wartime casualties from the air base.
There is limited information available on Tatnell in 'Men of the Battle of Britain' (no photograph of him) and a bit more information on the Battle of Britain London Memorial Website which includes a photo of Tatnell and Stretch that was undoubtedly taken at the same time as this one and came from Stretch's family.
 A very rare, if not unique, Battle of Britain signature