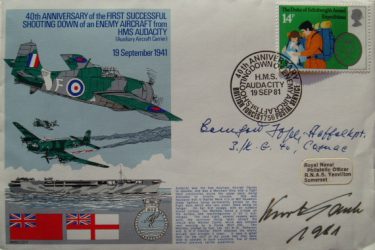 Dr KURT TANK
Cover signed by Focke Wulf Designer Kurt Tank
Price: Serious offers invited until 31st January 2021
JANUARY     ~    *SIGNATURE OF THE MONTH*
There are some aviation signatures that are very sought after by collectors
from all over the world, from pioneer pilots and designers to aces and astronauts. 
Therefore, each calendar month, Spitfire Books is offering an interesting signature for sale
and invites collectors to submit a 'best offer' during the month by email or telephone
---
The rare signature of German Aircraft Designer
Dr Kurt Tank
on a Rossbach Variant Cover no 25/35 commemorating the
40th anniversary of the first successful shooting down of an enemy aircraft (Fw 200)
from the Auxiliary Aircraft Carrier, HMS Audacity.

Signed by
Dr Kurt Tank (1898-1983)
A decorated WWI cavalry captain, Kurt Tank retrained as an aeronautical engineer and test pilot who led the design department at Focke-Wulf from 1931 to 1945. He was responsible for the creation of several important Luftwaffe aircraft of World War II, including the Fw 190 fighter aircraft, the Ta 152 fighter-interceptor and the Fw 200 Condor airliner.
In 1936 Tank designed the Focke-Wulf Fw 200 Condor to a Deutsche Luft Hansa specification. The first flight was in July 1937 after just under one year of development with Tank at the controls. The Condor made a famous non-stop flight from Berlin to New York City in 1938, proving the concept of transatlantic air travel. The Condor would later be used as a maritime patrol bomber aircraft during the war.
The Fw 190 first flew in 1939 and was produced from 1941 to 1945. It was a mainstay Luftwaffe single-seat fighter during World War II, and Tank's most-produced (over 20,000) and famous design and led to the Ta 152, a potent development of the Fw 190 design.
After the war, Tank spent two decades designing aircraft abroad, working first in Argentina and then in India, before returning to Germany in the late 1960s to work as a consultant for Messerschmitt-Bölkow-Blohm.  He died in Munich in 1983
Oberstleutnant Bernhard Jope (1914-1995)
Jope was a German bomber pilot and Group Commander during World War II. He was a recipient of the Knight's Cross of the Iron Cross with Oak Leaves.  In support of the Kriegsmarine, Jope flew the Fw 200 Condor on missions across the North Sea and Atlantic Ocean. 
A Very Good Condition Cover complete with the 4 original photograph inserts of Jope and Tank.
Click a picture to enter gallery…..