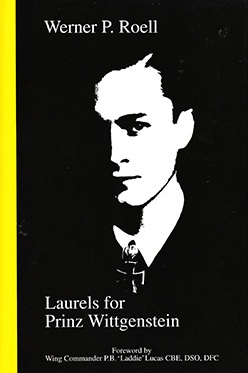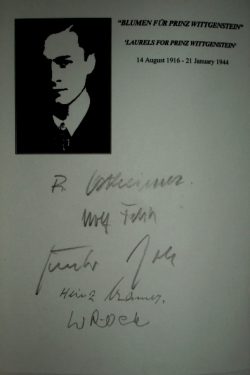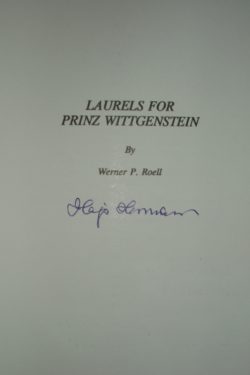 LAURELS for Prinz Wittgenstein
By Major Werner Roell KC
Signed by Luftwaffe Aces
Special Bookplate Signed by Luftwaffe Aces
Major Gunther Rall KC ~ Third highest scoring Ace in history with 275 victories
Oberst Wolfgang Falck KC ~ Night fighter Ace and Kommodore NJG1
Major Werner Roell KC ~ Author and veteran Stuka pilot with 477 missions
Feldwebel Freidrich Ostheimer ~ Wittgenstein's Radar/Radio Operator
Major Heinz Cramer KC ~ Shot down during the Battle of Britain and POW
+ signed on the half title page by
Oberst Hajo Hermann KC ~ Bomber pilot & night fighter Ace
Independent Books First edition 1994.  193 pages with lots of photos.
Fine condition hardback book and dustjacket. Clean, bright and tight. Comes with biographies of the signatories.
This is the story of the man who may have been the last of the Knights. Prinz Heinrich wanted to defend the homeland of his aristocratic ancestors so he decided to join the Luftwaffe and in October 1937 he was admitted to the Flying School in Braunschweig. In June 1938 he was promoted to Leutnant and whilst with Schlachtgeswader 40 at Regensburg-Obertaubling, he flew on the Sudeten operation as the author's air-gunner in a Heinkel He 45 armoured biplane.
After the outbreak of World War II, he chalked up 150 operations in Belgium, Russia, France, and against England, with Kampfgeschwader I, 'Hindenburg'. When war with Russia came in 1941 Wittgenstein was in action and was later withdrawn to Germany as the pressure by RAF Bomber Command began to increase. As a night-fighter pilot he was to display outstanding courage and determination in the defence of his homeland.
Before his death he was to account for some eighty-three four-engined bombers, sometimes attacking and shooting down as many as five in one night. By early 1944 Wittgenstein was the highest scoring German night-fighter pilot.
A fascinating biography of an interesting and charismatic character enhanced by the signatures of several Luftwaffe aces.