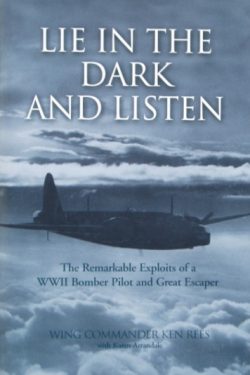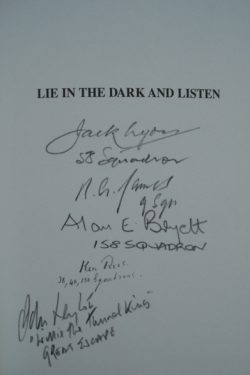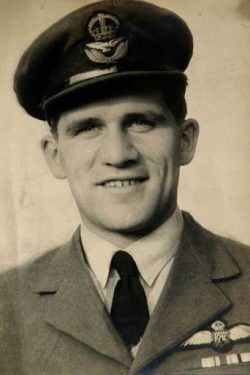 LIE in the DARK and LISTEN
The Exploits of a WWII Bomber Pilot and Great Escaper
Multi-Signed by POWs involved with the Great Escape
Sold
Signed by RAF POWs at Stalag Luft III involved with The Great Escape
Wg Cdr Ken Rees, Tunneller & Author
Sqn Ldr BA 'Jimmy' James MC, no 39 out of the tunnel
Flt Lt Jack Lyon, Stooge
Flt Lt Alan Bryett, Penguin & Stooge
John Leyton, Actor 'Willie the Tunnel King' in 'The Great Escape'
Grub Street first edition 2004.  224 pages and well illustrated with photos.
Fine condition hardback book and dustjacket. Clean, tight and unread. Nearly as new.
Ken Rees flew 56 night bomber missions over Germany; was based in Malta in 1941 during the siege flying raids on Italy; was shot down into a remote Norwegian lake; was captured and questioned by the Gestapo then sent to Stalag Luft III where he participated in and survived the Great Escape and terrible forced march to Bremen.
From his Obituary in The Daily Telegraph:
Ken Rees died in August 2014 aged 93. He was the last surviving member of the digging team that constructed the tunnel used during the "Great Escape" from Stalag Luft III in March 1944.  A gregarious, high-spirited, and at times irreverent young man (he was 21 years old at the time of his capture), Rees was a restless and troublesome prisoner, always baiting his captors and he regularly found himself in the "cooler" — the punishment block. When Hollywood filmed the escape from Stalag Luft III, many drew parallels between Rees and the character of Hilts, the "Cooler King" played by Steve McQueen. "It's always said that he was based on me," said Rees late in life, "apart from him being a 6ft tall American and me a Welshman of about 4ft 3in who can't ride a motorbike."
A great RAF Prisoner of War memoir with an excellent collection of signatures.