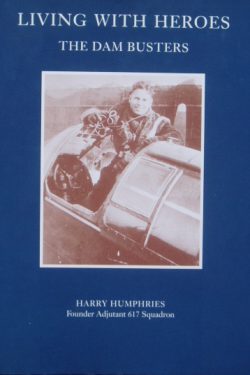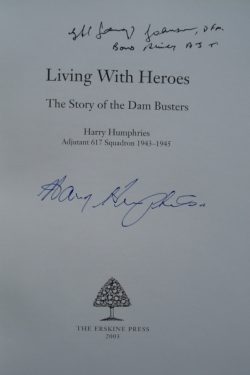 LIVING with HEROES ~ The Dam Busters
by Harry Humphries ~ Founder Adjutant 617 Squadron
Signed by Humphries & Johnson
Sold
Signed on the title page by
GH 'Johnny' Johnson ~ Bomb Aimer AJ-T


Harry Humphries ~ Adjutant

 617 Squadron
The Erskine Press First edition, 2003.  129 pages with lots of photographs and appendices.
Fine condition hardback book and Fine condition dustjacket. Clean, tight and bright.
Harry Humphries was picked by Guy Gibson to be the founder Adjutant of 617 Squadron and he served as such from its inception in 1943 until 1945 when he was posted to the Far East. He served under and knew such greats as Gibson, Cheshire and Tait.
This is a comprehensive account of the famous 617 Squadron Dambusters – covering not only the Dams raid itself but all of their special missions as well. This book gives a unique insight into the Squadron and its people and of special interest is a chapter about the author's dealings with Paul Brickhill concerning the research for Brickhill's best-selling 'The Dam Busters'.
Many stories have been written about the Dambusters and 617 Squadron, but this is the only account written by one who was there throughout those turbulent days.