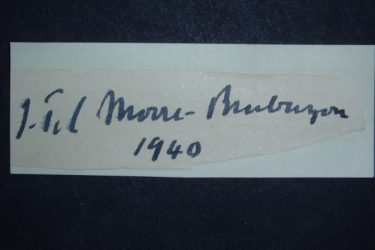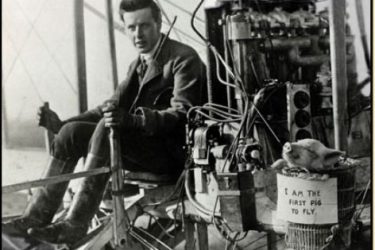 LORD BRABAZON of TARA
A clipped, ink signature dated 1940, perfect for mounting in a book
Signed by John Moore-Brabazon
Sold
John Theodore Cuthbert Moore-Brabazon, 1st Baron Brabazon of Tara, GBE, MC, PC (1884 – 1964) was an English aviation pioneer. He was the first Briton to fly a heavier than air machine under power in Britain in May 1909 (Cody was an American citizen).
He was the holder of Royal Aero Club Pilot Certificate No 1 and he filled a prominent position both in the aviation history and the public life of Great Britain.   He went up in balloons while still at Cambridge; he was one of the first to take up motor racing; he was an aviation pioneer before the war and flew with the RFC in WW1 making important contributions to aerial photography.  He was an accomplished golfer, a veteran of The Cresta Run, an MP and he ran the Ministries of Transport and Aircraft Production during WW2. He was involved in the production of the Bristol Brabazon, a giant airliner which flew in 1949 and was then, and still is, the largest aeroplane to be built entirely in Britain. 
His autobiography 'The Brabazon Story' was published by Heinemann in 1956. 
Brabazon learned to fly in France but returned to England bringing home a French-built standard model Voisen aeroplane in which he set a number of flying records. Included among them was a long-held personal ambition to be the first to prove pigs could fly. This was accomplished by confining a piglet in a wastepaper basket which he strapped to the wing strut of his biplane. A handwritten sign affixed to the wastebasket proclaimed "I AM THE FIRST PIG TO FLY."