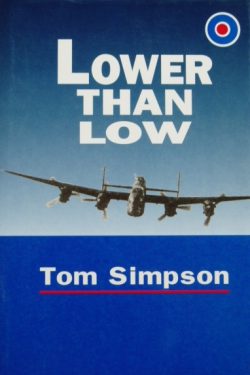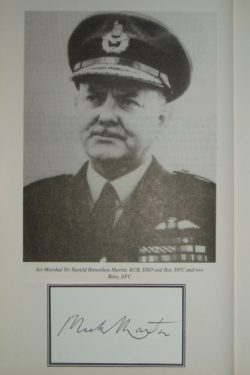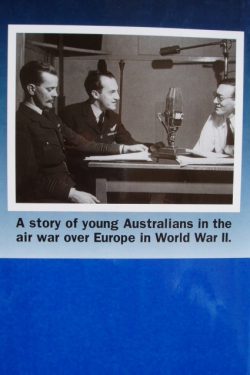 LOWER than LOW
By Flt Lt Tom Simpson DFC DFM
Signed by Mick Martin
Signature mounted below the frontispiece photograph of
Air Marshal Sir Harold 'Mick' Martin KCB DSO* DFC** AFC
Libra First edition 1995.    174 pages and well illustrated with photos.
Fine condition hardback book in black boards with gilt titles. Clean, bright and tight. Fine condition unclipped dustjacket.
Tasmanian Tom Simpson, known to his crew as 'Tammy', flew as rear gunner with Mick Martin in AJ-P on the Dambusters raid in 1943 as well as on many other missions over Europe.  This is his story but Tom's purpose in writing the book was to pay tribute to Air Marshal Harold 'Mick' Martin, whom he regarded as one of the great pilots of WWII and who meant 'to me more than a brother'. Consequently, this book also serves as an account of Mick's wartime adventures in which Tom had an integral part.  Tom was the only Tasmanian Dambuster and he returned there after the war to become a barrister and passed away in 1998.
Australian Mick Martin joined the RAF in 1940 and had flown tours with 455 Squadron RAAF and 50 Squadron RAF before joining Guy Gibson at 617 Squadron. Pilot of AJ-P, Mick Martin was Deputy Leader of the Dams Raid and flew in Gibson's lead group. Third aircraft to attack the Mohne Dam, he was awarded the DSO for his part in the raid. Mick Martin later served with Leonard Cheshire, and went on to a distinguished career after the war. ADC to the Queen in 1963, he eventually retired from the RAF as an Air Marshal in 1974. Mick Martin died on 3rd November 1988
This is a scarce Dambuster memoir and because it was published in Tasmania, few copies have found their way to Britain and currently there are no other copies available anywhere for sale. Enhanced by a neat Mick Martin signature, this book is one for the dedicated 617 Squadron Dambuster collector.