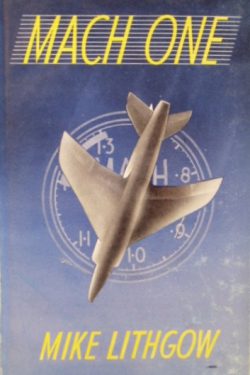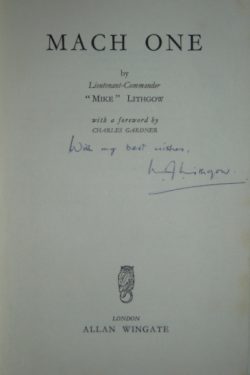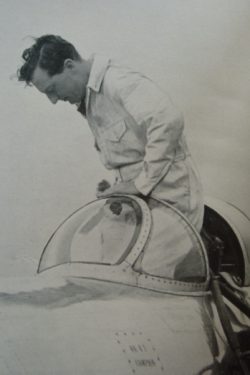 MACH ONE
By Lt Commander Mike Lithgow OBE
Signed by Mike Lithgow
Sold
Signed by Mike Lithgow on the title page
'With my best wishes'
Allan Wingate First Edition, 1954. 151 pages and well illustrated with photos.
Very Good condition hardback book which is clean, bright and tight. The dustjacket is also in Very Good condition with some neat repairs to two corners. It is now protected in an archival cover.
Following the success of Hawker Chief Test Pilot Neville Duke's book 'Test Pilot', this autobiography of Supermarine Chief Test Pilot Mike Lithgow was published less than a year later. Lithgow snatched the World Speed Record from Duke by a narrow margin in 1953 and following the friendly rivalry between the previous generation Hurricane and Spitfire, so the rivalry continued between the Hunter and the Swift, epitomised in the achievements of Duke and Lithgow respectively.
Mike Lithgow joined the Fleet Air Arm in 1939, initially flying Swordfish from HMS Ark Royal and was involved in the sinking of the Bismarck.  He survived a ditching 800 miles from the nearest land and became a naval test pilot, joining Supermarine after the war.  He became Chief Test Pilot in 1948 and oversaw the development of the Attacker, Swift, Scimitar and later the Vickers Vanguard and BAC One-Eleven.
Lithgow died test flying the prototype BAC One-Eleven G-ASHG from Wisley airfield on 22 October 1963 when during stall tests, the aircraft entered a deep stall and crashed in Wiltshire.
A very rare signed copy of a classic aviation book.