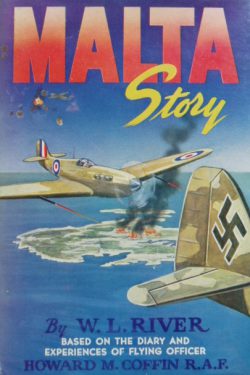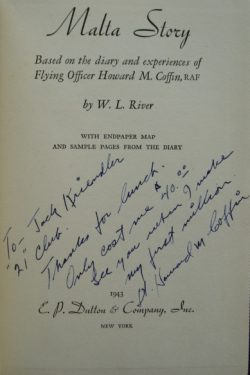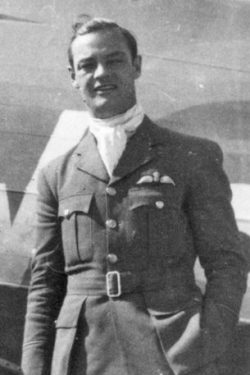 MALTA STORY
Based on the diary of Fg Off Howard M Coffin
Signed by Howard M Coffin
Sold
Inscribed & signed by Flying Officer Howard Coffin on the title page
'To……………, "21 Club"
Thanks for lunch. Only cost me $40.00
See you when I make my first million
Lt Howard M Coffin'
EP Dutton & Co First Edition, first impression 1943.  222 pages with maps as endpapers and illustrated with sample pages from the diary.
Near Fine condition hardback book and similar dustjacket. A superb copy. 
Howard Coffin, an American from Los Angeles, enlisted to fight with the RAF in January 1941 and after training in Canada found himself flying a Hurricane off the deck of HMS Ark Royal bound for Malta.  He arrived there in August 1941, joining 126 Squadron and remained for a year before flying back to the UK and then back to the USA where he transferred from the RAF to the USAAF and passed on his experiences as an aerial gunnery instructor. 
In this dramatized account, based on diaries and discussions with Coffin, the fascinating story of the defence of the island, first against the Italians and then increasingly against the Luftwaffe, is told through the eyes of an American volunteer and it makes for a dramatic story of combat, comradeship and courage in the face of daunting odds.
A very rare and collectable volume, combining great condition with a cryptic inscription from Howard Coffin, the subject of the book.  Despite much research, it is unclear whether Coffin ever managed to make his million!