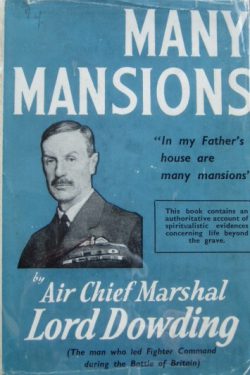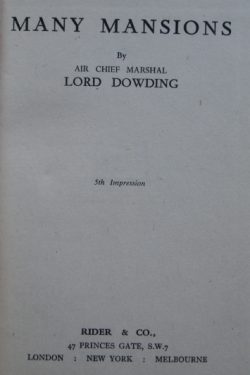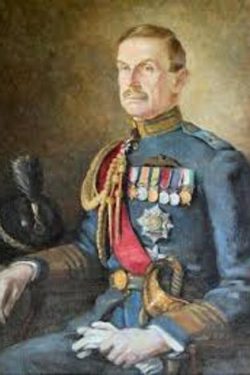 MANY MANSIONS
The man who led Fighter Command during the Battle of Britain puts the case for spiritualism
By Lord Dowding
Sold
Rider and Company. First edition, fifth impression circa 1944. First published in November 1943 at 6 shillings. 
Very Good plus condition hardback book in turquoise covers with red titles. The book is clean, bright and tight and is in exceptionally good condition for its age.  The scarce dust jacket is also VG+, complete and unclipped with just some light edgewear. It looks smart in its protective cover. NB. The colour picture above is for illustration only.
From the sleeve notes:
In this book Lord Dowding, whose name will be remembered in connection with the Battle of Britain, puts forward a strong case for life after death.
The author presents the subject attractively in a vigorous and fluent style – there are no dreary chapters of analysis, full of meaningless phraseology – the book is written in a clear and concise manner, which can be comprehended and will convince all who read it.
Dowding is no sentimentalist; he examines his facts soberly and critically from all angles; his plea for a better understanding of spiritualism will be greeted with enthusiasm by spiritualists all over the world and is bound to be regarded as a valuable asset to the spiritualistic cause. No one can question the deep sincerity with which this work has been carried out. Having in mind the many instances of survival after death on the battlefield recorded through various channels, Lord Dowding has satisfied himself that these records should be made known to the public as widely as possible, believing that they carry with them the hall-mark of truth.
In the record of Lord Dowding's career lies the assurance that he is a practical man not likely to be led astray by specious theories, or to harbour delusions when confronted by hard facts.
An interesting book written by a man of science and pragmatism who had the courage to publicly express his convictions. A first edition of this scarce volume, in such good condition is a fantastic, collectable book.