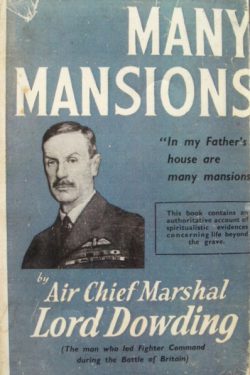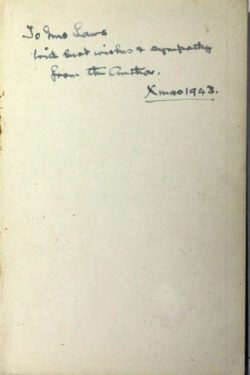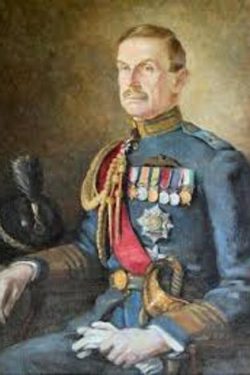 MANY MANSIONS
The man who led Fighter Command during the Battle of Britain puts the case for spiritualism
Signed by Air Chief Marshal Lord Dowding
Sold
MARCH ~ *BOOK OF THE MONTH*
There are some aviation books that are so rare and highly sought after by collectors
from all over the world that it would be unfair to sell such a book on a 'first come' basis.
Therefore, each calendar month, Spitfire Books is offering a rare book for sale
and invites collectors to submit a 'best offer' during the month by email or telephone
---
Inscribed on the front end paper in ink by Lord Dowding
"To Mrs Laws
With best wishes and sympathy
from The Author
Xmas 1943″
Rider and Company. First edition, first impression 1943. 
Very Good condition hardback book.  The book lacks its original dustjacket but has a good reproduction which makes the book look smart.  There are a couple of hand corrections in the text, including at the bottom of the last page the insertion of the words 'THE END' which Dowding commented on in a subsequent book 'Lychgate' – 'It is true that in the first edition the demon compositor left out the last two words, thus completely spoiling my peroration and causing a good deal of puzzlement to my readers.'  One can presume that in those copies that passed through Dowding's own hand, he made the necessary correction himself.
In view of the inscription, it is entirely possible that this book was given to the wife or mother of one of his Battle of Britain pilots as there were two named Laws. Adrian Laws of 64 Squadron was killed on 30th September 1940 aged 28 and George Laws of 151 and 501 Squadrons was killed in March 1941 aged 21.
From the sleeve notes:
In this book Lord Dowding, whose name will be remembered in connection with the Battle of Britain, puts forward a strong case for life after death.
The author presents the subject attractively in a vigorous and fluent style – there are no dreary chapters of analysis, full of meaningless phraseology – the book is written in a clear and concise manner, which can be comprehended and will convince all who read it.
Dowding is no sentimentalist; he examines his facts soberly and critically from all angles; his plea for a better understanding of spiritualism will be greeted with enthusiasm by spiritualists all over the world and is bound to be regarded as a valuable asset to the spiritualistic cause. No one can question the deep sincerity with which this work has been carried out. Having in mind the many instances of survival after death on the battlefield recorded through various channels, Lord Dowding has satisfied himself that these records should be made known to the public as widely as possible, believing that they carry with them the hall-mark of truth.
In the record of Lord Dowding's career lies the assurance that he is a practical man not likely to be led astray by specious theories, or to harbour delusions when confronted by hard facts.
An interesting book written by a man of science and pragmatism who had the courage to publicly express his convictions. A true first edition of this scarce volume, inscribed by Lord Dowding himself, is a fantastic, collectable book.
Click a picture to enter the gallery….