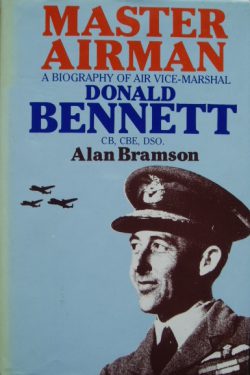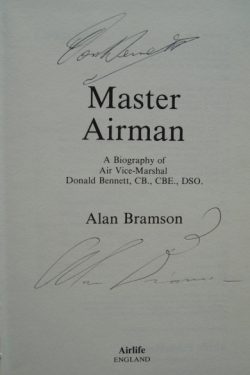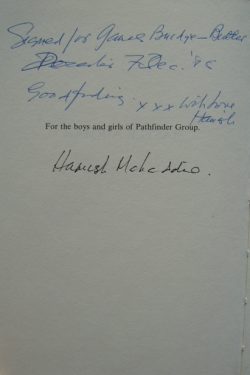 MASTER AIRMAN
A biography of Air Vice-Marshal Donald Bennett
Signed by AVM Don Bennett
Signed by
Air Vice-Marshal D.C.T. Bennett CB CBE DSO
+
Group Captain Hamish Mahaddie DSO DFC AFC*
+


 Alan Bramson 
Airlife First edition 1985. 166 pages and well illustrated with photographs.
A Very Good condition hardback book and Very Good condition dustjacket.  The book has a neat gift inscription on the front end paper, a dedication from Hamish and his signature on the reverse of the half title page and the signatures of Bennett and Bramson on the title page.  The dustjacket has a slight sun fade to the spine.
Air Vice-Marshal Don Bennett was one of the most outstanding figures of WWII.  After a short military career, he went into civil aviation and at the age of 26 he was a Captain on the largest aircraft flying at the time with Imperial Airways. He broke long distance records, wrote the text book on navigation and when war broke out he organised ferrying aircraft across the Atlantic.  Aged 32, he was appointed head of the Pathfinder Force which turned Bomber Command into a powerful and decisive weapon of war.  Almost every RAF Main Force attack was led by the Pathfinders. By the end of the war Don Bennett was commanding a total of 19 squadrons of the Pathfinder Force and was revered by his crews. Post-war, he was an MP, Managing Director of British South American Airways and designed and built his own cars amongst many other notable activities.  He passed away in 1986, not long after this book was published.
Group Captain Thomas "Hamish" Mahaddie had earned his wings and reached the rank of sergeant pilot by the outbreak of the Second World War. In his second tour he was selected to be a member of the newly formed Pathfinder Force. At the end of the tour he was brought onto AVM Don Bennett's Staff in the position of Group Training Inspector to select and train aircrews to serve in the Pathfinder Force. Within the span of two years from the start of the war Mahaddie had risen in rank from sergeant to group captain.  Post war he became known for sourcing veteran aircraft for use in the film industry, most notably for the film 'The Battle of Britain'
This is a compelling insight into a controversial man; a story of talent, professionalism and courage at its most admirable and this copy is enhanced by Bennett's distinctive signature.