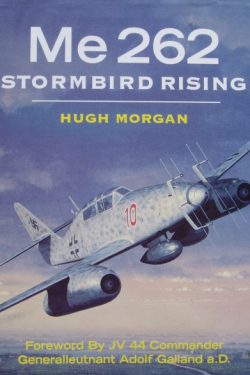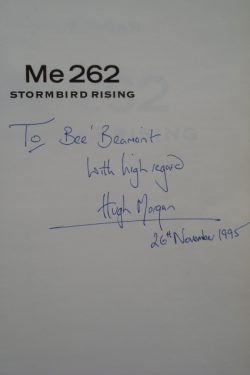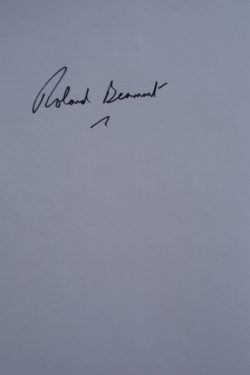 Me262 ~ Stormbird Rising
From 'Bee' Beamont's Library
Signed by Wg Cdr Roland Beamont CBE DSO*DFC*
Sold
Presentation inscription from the author on the half title page
'To Bee Beamont with high regard'
Signed by Roland Beamont in black ink on the facing page
Osprey Publishing First edition, 1994.  216 pages and well illustrated with photographs, some in colour. 
Near Fine condition hardback book and dustjacket. Clean, tight and bright.
The Me262 was the most technically advanced fighter of WWII which could have changed the course of the war if it had been employed as originally intended.  This outstanding book traces the birth and dramatically brief career of this spectacular aircraft. Interviews with surviving fighter, nightfighter and reconnaissance pilots relate their experiences of flying the Me262 in combat.  There are sections on those involved in designing and building the machine as well as reports from post war evaluations by the Allies.  Bringing the story up to date, the book looks at the re-manufactured aircraft that are taking to the skies once again.
From flying Hurricanes in the Battles of France and Britain to leading a Typhoon Squadron and later a Tempest Wing into action, Roland Beamont became one of the world's foremost test pilots.  His experiences during 40 years of test flying include production testing the wartime Hawker fighters, developing Britain's first jet fighter, the METEOR; Britain's first jet bomber, the CANBERRA; Britain's first supersonic fighter, the P1 (which became the LIGHTNING); the fabulous but ill fated TSR2 and the JAGUAR and TORNADO amongst many others. 
Roland Beamont contributed to this book being mentioned in both the acknowledgements and in the narrative. He describes how, after he had been released from his POW camp, he found an airworthy Me262 and tried to start it to return home in style. He says that it was probably fortunate that he failed to get it going as he subsequently found from analysing performance charts, that the airfield was far too short to have got safely airborne!  
This is a fascinating book from the library of one of the world's great test pilots.