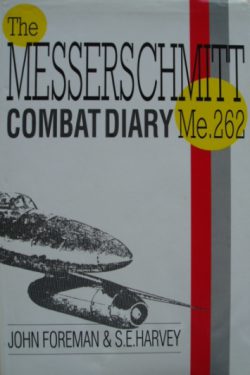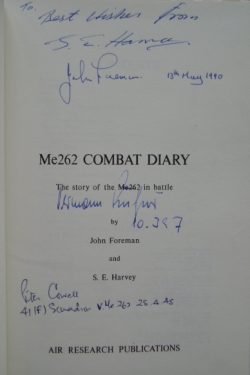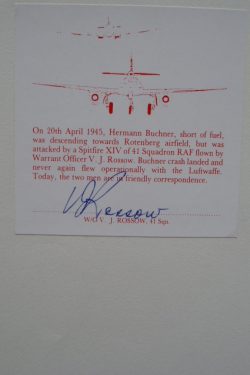 THE Me262 COMBAT DIARY
By John Foreman & SE Harvey
Signed by Oberst Hermann Buchner KC
Signed at the book launch by the authors and
Oberst Hermann Buchner KC of 10/JG7 who wrote the Foreword
Warrant Officer VJ Rossow of 41 Sqn who shot down Buchner
Flt Lt Peter Cowell DFC of 41 Sqn who shot down an Me262

Air Research Publications 1990.  256 pages and well illustrated with photos
Fine condition hardback book and dustjacket. Clean, bright, tight and unread. As new.
A very readable day by day account of the fabulous Me262 – the world's first fully operational jet fighter – with an excellent Luftwaffe Ace signature.
Hermann Buchner (1919 – 2005) was a German Luftwaffe fighter ace and recipient of the Knight's Cross of the Iron Cross  during World War II. The Knight's Cross of the Iron Cross was awarded to recognise extreme battlefield bravery or successful military leadership. Buchner was credited with 46 tank victories and 58 aerial victories, including 12 while flying the Messerschmitt Me 262 jet fighter, accumulated in 631 combat missions. His autobiography 'Stormbird' was published in 2000 and is also available from Spitfire Books.