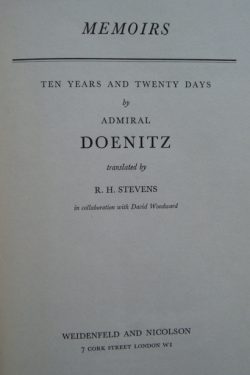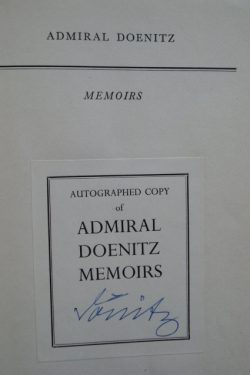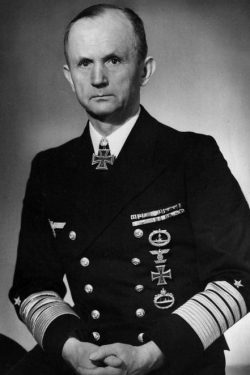 MEMOIRS ~ Ten Years and Twenty Days
Commander of the U-boat fleet, Supreme Naval Commander and Hitler's successor
Signed by Admiral Karl Dönitz
Sold
Publisher's bookplate on the half title page signed by
Admiral Karl Dönitz

Weidenfeld & Nicolson First Edition, 1st impression 1959.  500 pages and 8 pages of photographs.
Very Good condition hardback book in black boards with silver titles on the spine. Lacks dust jacket.
The story of the Second World War, as told by Grand Admiral Karl Dönitz (1891 – 1980) himself. His memoir covers his early career with submarines in the First World War and follows both his successes and failures through the Second World War, with great detail on the way the U-boat campaign was waged, as told by the man who invented U-boat 'Wolfpack' tactics.
Dönitz includes details of the U-boat campaigns during the Second World War as well as the opinions, ideas and commentary on the period. Of particular interest are the comments regarding British and American conduct during the war. An important social document, and an invaluable source for any student of the last war.
He became the last Führer of Germany after Hitler's suicide in May 1945 and the book's subtitle, 'Ten Years and Twenty Days', is a direct reference to the time Karl Dönitz spent in Spandau Prison having been convicted of war crimes following trial at Nuremberg. Doenitz wrote his memoirs upon his release. In a clear firm style he discusses the planning and execution of the U-boat campaign; the controversial sinking of the Laconia; America's "neutrality" before its entry into the war; the Normandy invasion; the July 1944 bomb plot; his encounters with Raeder, Göring, Speer, Himmler, and Hitler; as well as his own brief tenure as the last Führer.
A scarce signed copy of this classic book.