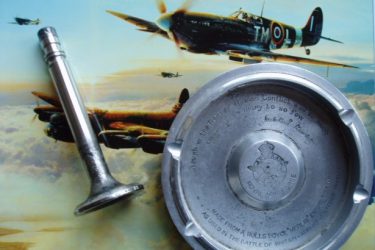 MERLIN Memorabilia
Piston head ashtray and inlet valve
Sold
Battle of Britain commemorative ashtray made from a piston head from a war surplus Merlin engine featuring the RAF crest and engraved:
"Never in the field of human conflict was so much owed by so many to so few"
Winston Churchill
Made from a Rolls Royce Merlin engine piston
as used in the Battle of Britain August-October 1940
 

These ashtrays were produced just after the war to raise money for the RAF Benevolent Fund and have become very collectable.  This ashtray is in VG condition though it has obviously been used for its designated purpose.  It measures 13 cm in diameter and 2 cm in depth.
Rolls Royce Merlin

Engine Inlet Valve

 
It is 12 cm tall in 
VG condition with original patina
These are great pieces for your desk or display cabinet. Very tactile!