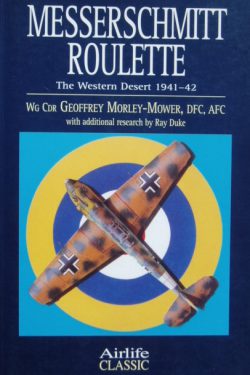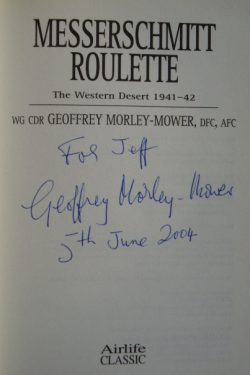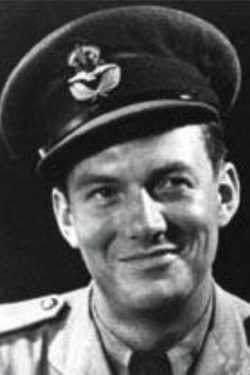 MESSERSCHMITT ROULETTE
The Western Desert 1941 ~ 42
Signed by Wing Commander Geoffrey Morley-Mower DFC AFC
Sold
Signed by Geoffrey Morley-Mower on the Title Page
Airlife Classic  2003. 204 pages with lots of photographs.
Fine condition card cover book. Clean, tight and bright. This book is unread and is practically as new.
This memoir provides a stunning view of the war in the Western Desert through the eyes of an RAF pilot flying ageing Hurricanes with 451 Squadron RAAF.  Tasked with low level armed recce missions they were at a disadvantage to faster, higher flying German and Italian fighters and the casualties were high.
The author had to battle with enemy flak and fighters and also the early scorn of his Australian comrades who were disgusted with their aircraft, recce role and the fact that most senior officers were RAF and not Australian.  But the desperate war situation forged strong bonds and the story of their months in combat is described in all its grimness, humour and terror.
This is an enthralling adventure which covers only a small part of the author's 31 year RAF service before emigration to the USA where he went on to become a distinguished Professor of English at James Madison University. Read their appreciation of his life here: The Poetry of Flying
A beautifully written and evocative book and very scarce signed.