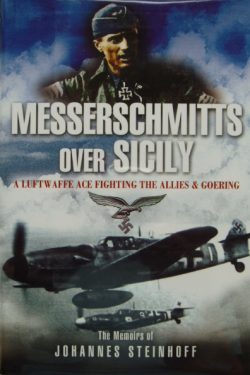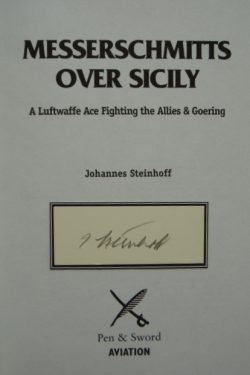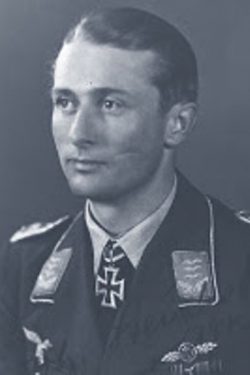 MESSERSCHMITTS over SICILY
The Memoirs of Johannes Steinhoff
Signed by General Johannes Steinhoff KC
Bookplate on the title page signed by
Johannes Steinhoff
Pen & Sword Revised Edition 2004.  270 pages and this revised edition is well illustrated with photos.
Very Fine condition hardback book in black and red boards with a similar condition unclipped dustjacket. It has dark red endpapers and a neat profile of Steinhoff's Bf109 from the Sicily campaign is mounted on the front endpaper. A really smart copy in all respects.
Johannes 'Macky' Steinhoff was the commander of JG77 during the Sicilian campaign and this book provides a vivid account of the defence of Sicily before the Allied landings on the island.  Steinhoff, an ace with over 100 victories, recounts the psychological strain and physical perils that the pilots faced – a similar experience to those faced a few months earlier by the RAF fighter pilots on Malta.
He tells of the humiliation felt by his men when the inept, amateurish Goering called them cowards for failing to stem the tide, yet the pilots flew their Messerschmitts into hopeless situations as a matter of personal vindication.  The author conveys the intensity of a fighter pilot's experience in war and reveals the thoughts of men trying to retrieve an impossible strategic situation with their skill and bravery.
'Macky' Steinhoff was one of very few Luftwaffe pilots who survived to fly operationally during most of WWII, crashing on take off in an Me262 in April 1945 and suffering horrific burns which kept him in hospital for 2 years. He was an ace with 176 victories and post-war played a significant role in rebuilding the German Air Force and then serving as Chairman of NATO's Military Committee from 1971-74.
This is a fascinating read and the superb Steinhoff signature makes it a great addition to a WWII aviation collection.