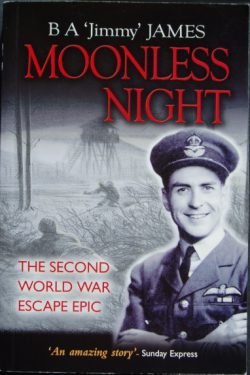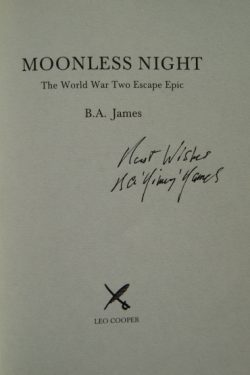 MOONLESS NIGHT
The Second World War Escape Epic
Signed by Sqn Ldr BA 'Jimmy' James MC
Signed by Squadron Leader BA 'Jimmy' James MC
no 39 out of the Great Escape tunnel 'Harry'
Leo Cooper revised edition 2002.  224 pages and well-illustrated with photos.
Near Fine condition card cover book.  Clean, tight and bright.
Captured after being shot down in a Wellington bomber in June 1940, Jimmy James took part in no fewer than twelve escape attempts including the Great Escape.  In this book he describes his experiences in graphic and gripping terms and how he was sent to Sachsenhausen Concentration Camp, sentenced to death by Himmler. 
This is an inspiring, exciting and compelling book about determination and fortitude in the face of incredible danger and hardship.