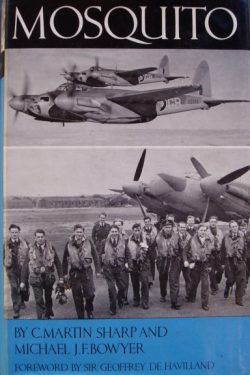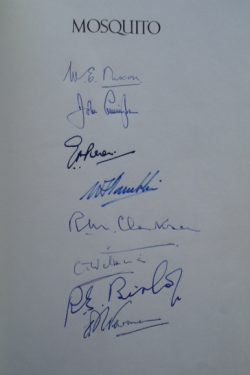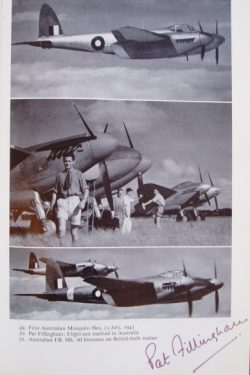 MOSQUITO
By C. Martin Sharp & Michael J Bowyer
Signed by the Mosquito Team
Sold
To Commemorate the 80th Anniversary of the first flights of the De Havilland Mosquito
25 – 29 November 1940
Signed on the half title page by




Members of the De Havilland Mosquito Team
W.E. Nixon ~ De Havilland Managing Director
Group Captain John Cunningham ~ De Havilland Chief Test Pilot and Mosquito ace
Geoffrey Pike ~ De Havilland Test Pilot 1942 – 60
W.A. Tamblin ~ Senior Designer
R.M. Clarkson ~ Chief Engineer
C.T. Wilkins ~ Assistant Chief Designer
R.E. Bishop ~ Mosquito Chief Designer
D.R. Newman ~ Aerodynamicist

Signed on his photograph by
Pat Fillingham ~ Mosquito Chief Production Test Pilot
Faber & Faber First edition 1967.  494 pages and well illustrated with 138 photos, 20 maps and diagrams and with 23 very useful appendices.
Fine condition hardback book in red boards with bright silver gilt titles to the spine. A Fine condition, clipped dustjacket which looks very smart in its protective cover. This book came from the collection of Des Penrose, also a De Havilland test pilot and there is a neat dedication to him on the front end paper and his bookplate is attached to the book.  The book comes with some paperwork pertaining to the Mosquito 50th Anniversary Symposium held at Hatfield in November 1990.
This is a history of unique thoroughness about an aircraft of unique achievement. The Mosquito was the non-conformist among aircraft of WWII.  Conceived by de Havilland and his team to be a bomber and reconnaissance aeroplane flying faster than contemporary fighters, it had no need for defensive armament.  Wood construction was used so as to employ an unpressed industry.  
Despite the initial indifference of officialdom, the result was a stunning success which made an outstanding contribution to Allied Victory.  This book tells the complete story of this fantastic aeroplane in a readable style but is crammed full of detail which comes from the authors' personal knowledge of the company, the personnel involved and access to company and RAF archives. 
A fantastic Mosquito book enhanced by some very collectable signatures.