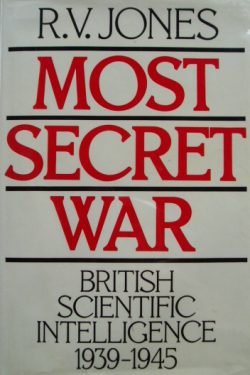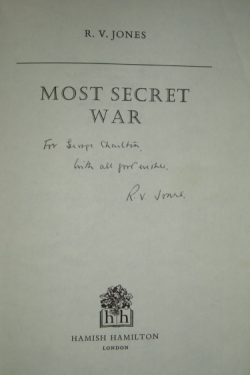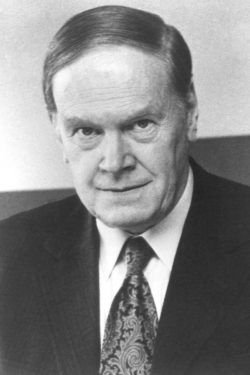 MOST SECRET WAR
British Scientific Intelligence 1939 - 1945
Signed by Professor RV Jones
Signed by Professor R.V. Jones on the title page
'……..With all good wishes. R.V. Jones'
Hamish Hamilton First Edition, third impression May 1978.  556 pages and well illustrated with photographs.
Very Good condition hardback book and Very Good condition, clipped dustjacket. Clean and bright with a solid binding. There is a neat gift inscription on the front end paper which corresponds to RV Jones's dedication.
This is the autobiography of Professor Reginald Victor Jones (1911–1997) who was a British physicist and scientific military intelligence expert who played an important role in the defence of Britain in World War II. 
In 1936 Jones took up the post at the Royal Aircraft Establishment, Farnborough, a part of the Air Ministry. Here he worked on the problems associated with defending Britain from an air attack.
When WWII began, he became MI6's principal scientific adviser; keeping up his Air Ministry connection for cover. His responsibility was to anticipate the German applications of science to warfare so that Britain could counter their new weapons before they were used. His first important task was to discover how Luftwaffe pilots navigated when they overflew England by night, during the Battle of Britain and the Blitz. He unravelled the Lorenz beam navigation systems they were using, and was sometimes able to jam, sometimes to divert, their beams.
It was Jones who suggested the raid on the Bruneval radar site, in February 1942, to dismantle a German radar device and bring it back for inspection. It was Jones who played a leading part in discovering what the V-1 and the V-2 were, and how they might best be countered. Jones could not work usefully unless he was privy to every secret. He was cleared to receive messages from the ULTRA secret decipher service at Bletchley Park; he was cleared to read spies' reports, as they were received, not in the laundered form in which they reached lesser intelligence officers; he knew a great deal about impending operations and he knew work was in progress on an atomic bomb. He was a large man, broad- shouldered and over six feet tall, with a strong voice when he cared to raise it. Moreover, he had a disconcerting habit of usually being in the right, as well as displaying admirable manners when he was in the wrong – as of course he sometimes was. Churchill is reported to have said 'he did more to save us from disaster than many who are glittering with trinkets'. 
This autobiography formed the basis, pre-publication, of the BBC One TV series "The Secret War", first aired in January 1977 and narrated by William Woollard, in which Jones was the principal interviewee. The historian A. J. P. Taylor described 'Most Secret War' as "the most fascinating book on the Second World War that I have ever read" and since then it has acquired classic status being republished many times.
An important autobiography for any WWII library and a signed copy is particularly scarce and collectable.