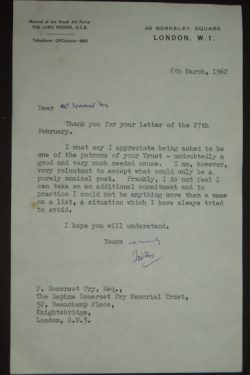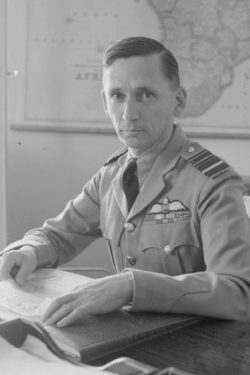 MRAF Lord TEDDER
Signed Letter
Price: Serious offers invited until 30th April 2021
APRIL     ~    *SIGNATURE OF THE MONTH*
There are some aviation signatures that are very sought after by collectors
from all over the world, from pioneer pilots and designers to aces and astronauts. 
Therefore, each calendar month, Spitfire Books is offering an interesting signature for sale
and invites collectors to submit a 'best offer' during the month by email or telephone
---
Marshal of the Royal Air Force Lord Tedder
Signed Letter dated 6th March 1962 on his personal stationary
Lord Tedder (1890-1967) was a WWI fighter pilot who was promoted to command his first squadron barely six months after gaining his wings. His promotions and commands continued and by the start of WWII he was an Air-Vice Marshal.  Tedder became famous as Air Commander in Chief in the Middle East right up to the triumph at Tunis and the successful landings in Italy, and thereafter as Deputy Supreme Commander with General Eisenhower. This marked him out as a highly successful and effective Commander and he succeeded Portal as Chief of the Air Staff in 1946.
A neat A5 sized letter which would fit nicely into any of the biographies of him.
A scarce signature of one of the greatest of the Senior Commanders in the RAF's illustrious history,
Click a picture to enter the gallery…….