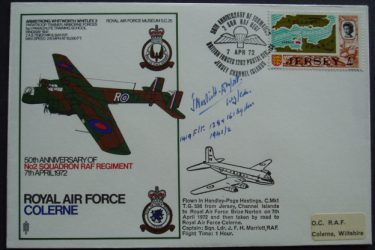 John Nesbitt-Dufort
RAF Museum Signed Cover
Wing Commander John Nesbitt-Dufort DSO
Price: Serious offers invited until 30th June 2019
JUNE   ~    *SIGNATURE OF THE MONTH*
There are some aviation signatures that are very sought after by collectors
from all over the world, from pioneer pilots and designers to aces and astronauts. 
Therefore, each calendar month, Spitfire Books is offering an interesting signature for sale
and invites collectors to submit a 'best offer' during the month by email or telephone
---
An RAF Museum cover from 1972 signed by
Wing Commander John Nesbitt-Dufort DSO


(1912 – 1975)



SOE Lysander Pilot
Author of 'Black Lysander'
CO 488 (NZ) Squadron Mosquitos
Test Pilot

At the outbreak of WWII, Nesbitt-Dufort, who was a very experienced instructor, managed to find a way onto operational duties. First with a Night Intruder Squadron and then with Special Duties Squadrons, he specialised in flying agents in and out of Occupied France on cloak and dagger missions which are vividly described in his book. In January 1942 he evaded capture and returned to the UK after he crashed landed Lysander (T1508-MA) while inserting agents near Issoudon due to low fuel and icing. Later he returned to test flying and then commanded a Night Fighter Wing flying Mosquitos and Spitfires.
A very rare SOE pilot signature
A Very Fine condition copy of 'Black Lysander' (Jarrolds 1973) is also available ~ please enquire
The FDC is in Fine condition