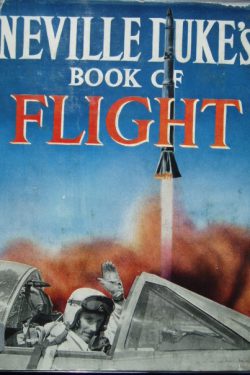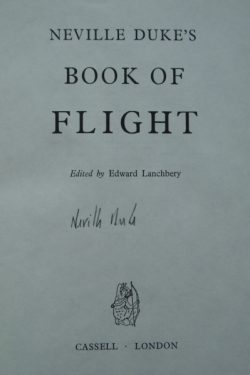 Neville Duke's Book of Flight
By Squadron Leader Neville Duke DSO OBE DFC** AFC
Signed by Neville Duke
Sold
Signed

by

Neville Duke

on the title page
Published by Cassell and Company Ltd. First edition 1958.  116 pages and very well illustrated with photos. 
Fine condition hardback book and Very Good condition unclipped dustjacket. Clean, bright and tight.  It comes with a newspaper obituary of Duke from 2007.
From Spitfire pilot with 92 Squadron to world famous record breaking test pilot, Neville Duke was one of the top scoring RAF fighter pilots of WWII, decorated six times for gallantry; post-war he became a household name as Chief Test Pilot for Hawkers and a permanent figure in the gallery of great flyers. 
Since the publication of his 'Book of Flight', Duke's brilliant test pilot career was brought to an end in a crash which injured his spine and this event, caused by a piece of fluff in the throttle controls, is described in Chapter 1. He also recalls his wartime flying in the western desert when in the course of five days he was twice shot down and three times reported missing.  Other chapters discuss the problems of high speed formation flying, training aircraft designers and embryonic space flight.
Another nostalgic signed aviation book.