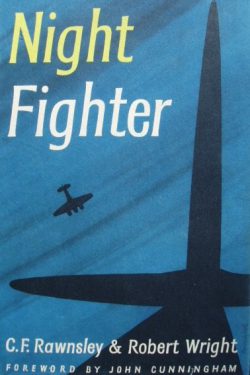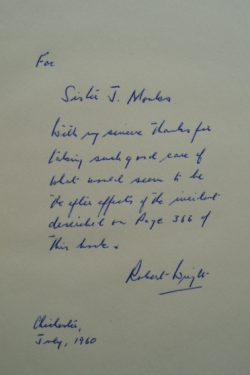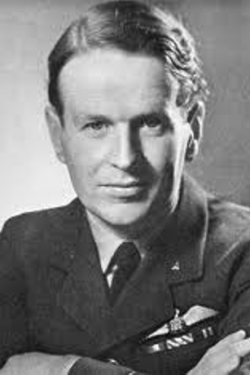 NIGHT FIGHTER
By CF Rawnsley & Robert Wright
Signed by Robert Wright
Sold
Presentation signed by Robert Wright on the front end paper

'For Sister J Monks
With my sincere thanks for taking such good care
of what would seem to be the after effects of the incident
described on page 366 of this book.
Robert Wright
Chichester, July 1960′
Collins First edition, first impression 1957. 382 pages and well illustrated with photographs.
Very Good condition book and Very Good condition unclipped dustjacket.  The inside is clean, bright and tight and it looks good in its protective wrapper.
This is the classic account of the night war over Britain as seen through the experiences of Group Captain John 'Cats-eyes' Cunningham DSO** OBE DFC*, and his Radar Operators.
Jimmy Rawnsley served as air-gunner and then as navigator to John Cunningham, the leading night fighter pilot of the Second World War, and remained so almost to the end. Robert Wright was also a Radar Operator on 604 Squadron and this classic book describes their experiences on their night interceptions during and after the Battle of Britain.
Johnnie Johnson reviewed the book and wrote: 'A great story: not only of night fighting but also of the hazards of seeking and stalking in the darkened skies. So entirely different from the quick thrust and parry of our own daylight duels against the Luftwaffe.'
A very nice first edition of this important book, enhanced by the personal inscription of Robert Wright who also served as personal assistant to Hugh Dowding during the Battle of Britain and subsequently wrote biographies of Lord Dowding and his successor Lord Sholto Douglas.  On page 367 of this book, Jimmy Rawnsley writes 'He (Wright) seemed to be particularly intrigued with the Nursing Sister who was taking care of him……..!'