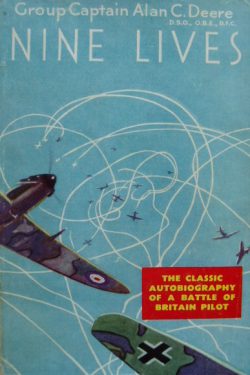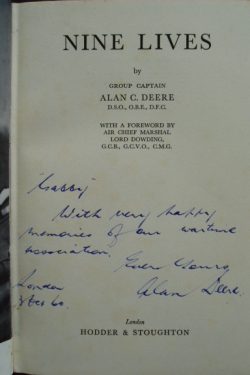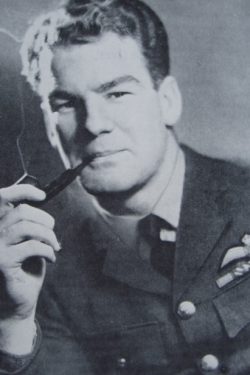 NINE LIVES
By Air Commodore Alan C Deere DSO OBE DFC*
Signed by Alan Deere
Price: Serious offers invited until 31st October 2020
OCTOBER ~ *BOOK OF THE MONTH*
There are some aviation books that are so rare and highly sought after by collectors
from all over the world that it would be unfair to sell such a book on a 'first come' basis.
Therefore, each calendar month, Spitfire Books is offering a rare book for sale
and invites collectors to submit a 'best offer' during the month by email or telephone
---
Inscribed, signed and dated by Al Deere on the title page
"Gabby"
With very happy memories of our wartime association
Ever yours 
Alan Deere
London 3 Feb 1960
Hodder & Stoughton First Edition, first impression 1959.  262 pages with 12 pages of photos
Very Good condition hardback book in red boards with a Very Good condition, price clipped dustjacket.  The book is generally clean and securely bound and is a pleasing example of this iconic book.
There is an inscription on the front end paper which reads: 'To bring back memories of former glories.  To Olek from Betty, with love, June 2nd 1959'
---
Did this book belong to Colonel 'Gabby' Gabreski?
Unfortunately the evidence is circumstantial rather than definitive.  'Gabby' is not a common nickname and the inscription from Deere certainly implies that they were comrades during WWII – and indeed Deere describes their first meeting in the book.  The book's previous owner bought it from a dealer in New York close to where Gabreski lived and died in 2002. 
The inscription on the front end paper adds to the intrigue.  A plausible theory is that the book might have originally belonged to the famous RAF/USAAF ace Major Boleslaw 'Mike' Gladych.  In Polish, a short form of Boleslaw is 'Bolek' and Gladych's wife was named Elizabeth.  It is therefore possible that 'Olek' and 'Betty' are the familiar names that they called each other.  This would made sense of the first inscription on the front end paper as a thoughtful gift to Mike from his wife very soon after the book's publication. 
It is also well documented that Mike was a close personal friend of Gabby, both during and after the war.  It is therefore possible that after reading it, Mike passed on the book to Gabby (as Gabby is mentioned in it on page 210) and Gabby either sent it to Deere to be signed or had it signed personally on a visit to London and he retained possession of the book until his estate was sold after his death in New York.  Any further information to solve this mystery would be welcome……
---
Al Deere was possibly the best known of all the New Zealand fighter pilots. Flying Spitfires with 54 Squadron, during four days – 23 to 29 May – Deere shot down three Bf 109s and three Bf 110s and was decorated with the DFC by the King at a special ceremony at Hornchurch.
During the Battle of Britain Deere destroyed seven more enemy fighters and one bomber and was awarded a Bar to the DFC.
Deere took command of No 602 Squadron on 1st August 1941 and on that day destroyed a Bf 109, his first victory for eleven months. In February 1943 he was appointed Wing Leader at Biggin Hill. He flew 121 sorties during his six months' leadership and increased his personal score to twenty-two confirmed victories, ten probables and eighteen damaged. Deere was awarded the DSO, the Croix de Guerre and the DFC (US). He was also awarded an OBE and retired from the RAF in December 1977, with the rank of Air Commodore passing away in 1995.
Deere wrote of his experiences and his many escapes from death in 'Nine Lives', which has come to be recognised as one of the finest personal records of the Battle of Britain with a fulsome foreword written by ACM Lord Dowding.
A signed presentation copy of this classic book is a rare find and essential for a Battle of Britain library, irrespective of whether this particular example once belonged to a legendary WWII ace and commander.