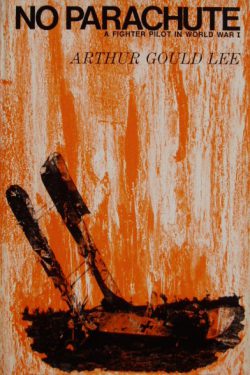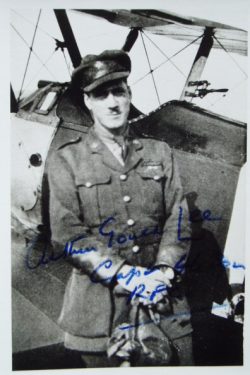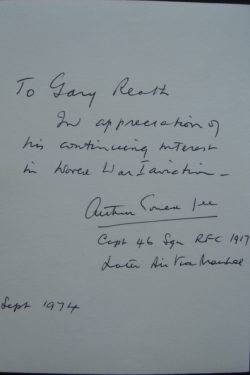 NO PARACHUTE
A Fighter Pilot in WW1
Signed by Air Vice-Marshal Arthur Gould Lee MC
Sold
Photograph inscribed and double signed by Arthur Gould Lee laid in

On the front in blue ink:  'Arthur Gould Lee, Captain 46 Sqn RFC'
On the reverse:      'To….. in appreciation of his continuing interest in World War 1 aviation
Arthur Gould Lee, Capt 46 Sqn RFC 1917
Later Air Vice-Marshal.   Sept 1974'
Jarrolds. First edition 1968. 233 pages and well illustrated with photographs.
Fine condition hardback book and dustjacket.  Clean, tight and bright.
Thanks to a broken leg during training, Arthur Stanley Gould Lee gained valuable additional time flying trainers before he was posted to 46 Squadron in France during World War I. In November 1917 during low level bombing and strafing attacks, he was shot down three times by ground fire. He spent eight months at the front and accumulated 222 hours of flight time in Sopwith Pups and Camels during a staggering 118 patrols; being engaged in combat 56 times and scoring 11 victories. He lived to retire from the RAF as an Air Vice-Marshal in 1946 but continued to have many other flying adventures. 
This is Gould Lee's story based on letters written on the day, hot on the event, which tells of a young pilot's progress from fledgling to seasoned fighter. His descriptions of air fighting, sometimes against the Richtofen Circus, of breathless dog-fights between Sopwith Pup and Albatros, are among the most vivid and immediate to come out of World War I. Gould Lee brilliantly conveys the immediacy of air war, the thrills and the terror, in this honest and timeless account.  Exposed to the slipstream and to every extreme of weather, the pilot and his fragile craft were one with the element in which they flew. Even in combat, pilots were concious always that they belonged only to the sky and the clouds – and it is the reflection of this awareness which gives 'No Parachute' its very special quality.  After 50 years, this book has recently been republished by Grub Street.
A lovely condition first edition of this classic Great War flying memoir along with a WW1 ace signed photograph (not stuck in).